Indian media: Chinese 'intrusion on ponies and horses'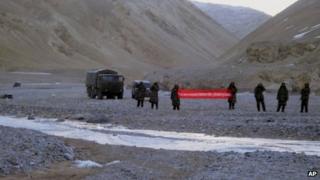 Media in India are reporting on the alleged incursion into the Indian territory by Chinese soldiers on "ponies and horses" in the disputed Chumar area of Ladakh, bordering China.
According to the Indian army sources, about 50 Chinese personnel were spotted in the area by Indian soldiers, reports said.
"Sources said the intruding Chinese soldiers asked the Indian soldiers to vacate the area claiming that they were standing in Chinese territory," The Hindustan Times reports.
However, the Chinese army's patrol team returned after talks between the two sides, the report adds.
"The latest incursion took place on 16 July, the day India gave approval to the creation of the 50,000-strong strike corps along the border with China," says The Pioneer.
Face-offs between Indian and Chinese soldiers have increased in recent times even as the two countries plan to sign a border pact for peace, reports say.
Dancer 'assaulted'
Most newspapers, including the Hindu and the Deccan Herald, are expressing concerns over fresh violence in Indian-administered Kashmir on Sunday - the third day of a strike called by the separatists to protest against the killing of four civilians by security forces on 18 July in Ramban district.
"At least 16 people, including six policemen, were injured on Sunday during fresh clashes between stone-throwers and security forces at different places in the [Kashmir] Valley," says Deccan Herald.
Meanwhile, an Italy-born dancer, living in the eastern state of Orissa since 1979, has alleged that two priests assaulted her when she refused to pay "dakshina" (religious offering) during the nine-day annual Rath Yatra, a Hindu festival that involves carrying statues of deities on a chariot.
"The incident occurred when 55-year-old Ileana Citaristi climbed atop a chariot to pay obeisance to Lord Jagannath. A priest allegedly beat her when she refused to cough up the amount he demanded," Deccan Herald reports.
The Times of India quoted the temple's chief administrator Arvind Padhee as saying that he had ordered an inquiry into the incident.
"I spoke to her and condemned the embarrassment she faced on the chariot. Action will be taken against the erring priests," he said.
And finally, Indian boxer Mary Kom has decided to take a year-long sabbatical after giving birth to her third child, Deccan Chronicle reports.
The Olympics bronze-medallist is also "eagerly awaiting" her biopic starring Bollywood actress Priyanka Chopra, it adds.
BBC Monitoring reports and analyses news from TV, radio, web and print media around the world. For more reports from BBC Monitoring, click here. You can follow BBC Monitoring on Twitter and Facebook.