India Bihar teachers to 'stay away' from school lunches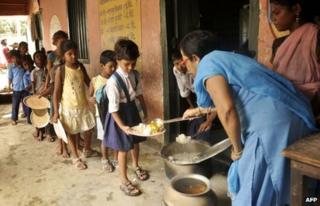 Teachers in India's Bihar state have decided not to participate in the free school lunch scheme after 23 children died from eating a meal last week.
The teachers say they should not be "involved in non-academic work".
The Mid-Day meal scheme provides free food for students, but often suffers poor hygiene.
It was introduced to combat hunger and boost school attendance, and reaches 120 million children in 1.2 million schools across the country.
Last week, 47 children, aged between five and 12, were taken ill after eating a free meal of rice and soya beans in Saran district. Twenty-three died in the hospital.
High levels of an agricultural insecticide have been found in samples of the food they ate. The school principal, Meena Kumari is still being sought on suspicion of criminal negligence, authorities say.
Following the deaths, students from a government-run school in Nawada district in Bihar beat up their teachers in protest against the poor quality of their lunch.
Now, all 300,000 teachers in state-run primary schools have decided to "abstain from the implementation of the Mid-day meal scheme" from Friday, said B Sharma, head of the primary school teachers' association.
"Teachers and the headmasters have to manage the scheme with little help, low quality food and corruption at every level," he said.
"But when such an incident happens, a teacher or the principal is held responsible."
Bihar Education Minister PK Shahi, however, has been reported as saying that a Supreme Court order makes it mandatory for teachers to participate in the Mid-Day meal scheme.
"The state does not have the resources to hire people to implement the scheme," he said.
The scheme was first introduced for children from poor backgrounds in the southern city of Chennai (Madras) in 1925.