India PM holds meeting to discuss rupee fall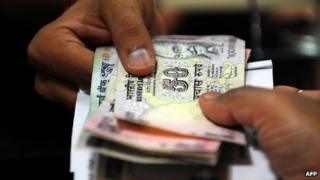 India's PM Manmohan Singh is meeting industry leaders to discuss the sharp fall in the rupee and measures to curb the country's current account deficit.
The meeting in Delhi is likely to be attended by top bankers and other industrialists, reports say.
India's economy, which has grown at its slowest pace in a decade, has been causing concern to the authorities.
The economy grew by 5% over the year, after having grown at an annual pace of 4.8% in the January-to-March quarter.
India was recording annual growth of 9% until two years ago, but in recent months it has seen a sharp decline blamed on a slowdown in its manufacturing and services sectors.
Foreign investors have also kept away due to delays in key reforms.
The rupee has fallen in value to record lows in recent weeks, hitting an all-time low of 61.21 against the US dollar earlier this month.
India's central bank - the Reserve Bank of India - recently announced liquidity tightening measures to arrest the decline in the rupee, but experts say that is likely to further choke growth.
The country's current account deficit touched $33bn (£22bn) in the quarter ending December 2012, reaching a historical record level of 6.7% of gross domestic product (GDP).