India maharaja's $4bn 'will' had spelling error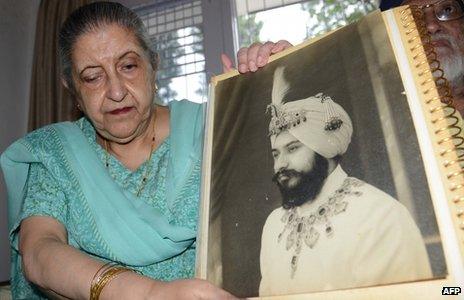 A spelling error triggered doubts in the mind of a judge who ruled that a $4bn (£2.6bn) will of a former Indian maharaja had been forged.
Last week, a court in the northern city of Chandigarh said the will of Harinder Singh Brar, Maharaja of Faridkot had been forged.
It had left his wealth in the care of a charitable trust set up by some of his servants and palace officials.
The assets include a 350-year-old royal fort, stables and a private aerodrome.
The maharaja's daughter Amrit Kaur had questioned the veracity of the will which had deprived her of the property.
After a 21-year-long battle in the court, Judge Rajneesh Kumar Sharma ruled in their favour, declaring the document void and outlining the reasons.
For one, he said the word holograph - a document written entirely by the person in whose name it appears - had been misspelt as "harrograph" on the opening page of the claimed will.
In his 129-page ruling, Judge Sharma said the maharaja was "well educated" and was of such a "stature" that it was unlikely he would ever make a spelling error.
The judge said that the mistakes in the will showed it "was never executed by a person of sound state of mind".
Judge Sharma also pointed out the:
Use of different pen inks by the testator (the person who makes the will) and the witnesses of the will in their signatures. The judge said the testator had signed using a light blue ink pen, while the witnesses used dark blue ink. "This is a matter of serious suspicion," the judge said
Delay in the will becoming public. The maharaja died on 16 October 1989. The will surfaced on 26 October 1989 when people gathered at a ceremony to pay homage to the deceased
Will said the properties of the maharaja would go to a charitable trust. The court found this trust "illegal".
In their defence, the beneficiaries of the will who ran the trust claimed that the maharaja was angry with his daughter Amrit Kaur for marrying a police officer, and "therefore excluded her from the will".
Ms Kaur says she produced letters exchanged with her father to prove that they had a "good relationship".
"Yes, he was unhappy [with the marriage] at the beginning," says Ms Kaur, sitting in her house in Chandigarh city.
"But his unhappiness was temporary. We exchanged so many letters after that. He was so fond of his grandchildren."