India: Assam strike over separate state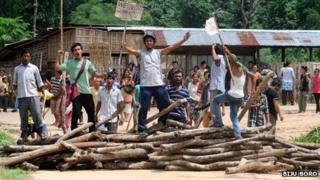 Tribespeople in India's north-eastern state of Assam have begun a 100-hour strike demanding a separate homeland.
Normal life has been disrupted in Dima Hasao, which the Dimasa tribespeople want to turn into a separate state.
It follows protests in neighbouring Karbi Anglong, where the Karbi tribes people are demanding a separate state.
Last week's move to create Telangana out of the southern Andhra Pradesh state has sparked off similar demands in the states of West Bengal and Assam.
The main Gorkha ethnic group in West Bengal state has called an indefinite strike in the tea producing Darjeeling region from Saturday.
In Assam's Dima Hasao district, the strike by Hill States Democratic Party has affected road and train traffic between northern and southern Assam.
Violence continued in the neighbouring district of Karbi Anglong, where Karbi tribespeople have also joined the campaign for a separate state.
Several government offices were burnt down in the area on Sunday night, prompting Assam chief minister Tarun Gogoi to call Karbi groups for negotiations.
Groups representing the Bodo tribespeople in Assam have also resumed their campaign for a separate state.
On Monday, two Bodo MPs demonstrated for their cause in front of the Indian parliament in Delhi, while Bodo legislators staged similar demonstrations before the Assam legislative assembly in the state capital Guwahati.
The Bodo National Conference has said they will intensify their movement in phases.
"All these campaigns are old movements for separate states that were pacified by various packages of autonomy. But now with Telangana being announced, they have all being revived simultaneously," says analyst Samir Kumar Das.
Dozens of groups in the north-east have been fighting for decades for independence from India or for greater autonomy in Assam.
Assam is sandwiched between China, Burma, Bhutan and Bangladesh and is only joined to the rest of India by a narrow 22km (13.6 miles) corridor.
In the neighbouring state of West Bengal, the Gorkha Janamukti Morcha began an indefinite strike demanding a separate state for Nepali-speaking Gorkhas on Saturday.
Last week, the government announced that the southern Andhra Pradesh state would be split to form a new Telangana state.
Telangana, with a population of 35 million, comprises 10 of Andhra Pradesh's 23 districts.