India building collapse in Vadodara 'kills 11'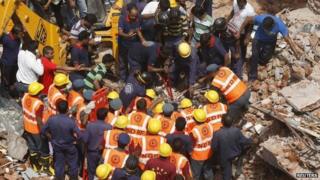 At least 11 people have been killed in a building collapse in the western Indian city of Vadodara, officials say.
More people are feared trapped under the debris of the three-storey building, home to about a dozen families.
An official told the BBC a second building had also collapsed but it was empty.
Correspondents say such incidents are common in India and are often blamed on poor construction practices.
The 12-year-old buildings were part of a residential complex set up by the state-owned Vadodara Urban Development Authority, reports said.
Soldiers and civilian volunteers in the rescue operations pulled out 11 bodies and four badly injured people from the debris, fire chief Hitesh Taparia told the AP news agency.
At least five people who were rescued from the building are being treated in hospital, officials say.
Police say that most of the occupants of the 14 apartments in the collapsed building were sleeping when it imploded.
They say that the adjacent building was evacuated minutes before it fell.
More than 250 rescue workers have been working throughout Wednesday to clear debris from the site and search for survivors amid piles of twisted metal, concrete slabs, bricks and mortar.
Police say that the cause of the collapse is not immediately clear - one theory is that the foundations of the buildings may have been damaged by unusually heavy rain in Vadodara during the monsoon season.
Narendra Modi, chief minister of Gujarat state where Vadodara is located, said he had sent a minister to the site of the accident.
The state government has ordered an investigation into the collapse and announced that it would check for structural damage in the 31 other buildings in the complex.
State Finance Minister Nitin Patel said the families of the dead would receive compensation of 200,000 rupees ($3,046; £1,957).