Profile: 'Indian Mujahideen leader' Yasin Bhatkal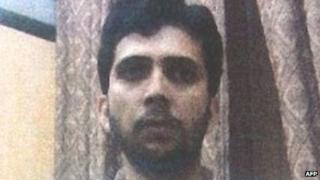 Before his arrest Yasin Bhatkal was one of India's most wanted terror suspects, accused of carrying out a string of high-profile attacks.
The alleged head of the Indian Mujahideen (IM) militant group, he has been blamed for a string of bomb blasts, the most high-profile being the Mumbai train blasts in 2006 and explosions in Bangalore, Pune and Delhi in 2010. He is also accused of bombing the Delhi High Court in 2011.
His ability repeatedly to evade capture has prompted some in the Indian media to nickname him the ghost bomber.
Indian media say that his talent for disguising himself - combined with the lack of a national database on criminals and terror suspects - in part enabled him to remain on the run for so long.
His real name is believed to be Muhammad Ahmad Zarar Siddibappa, but he uses a number of aliases, the authorities say.
On one occasion in 2009 he was able to walk out of a police station in Calcutta on bail after being accused of theft, media reports say. Calling himself Muhammad Ashraf, he allegedly convinced police it was a case of mistaken identity.
Meticulous planning
Little concrete detail exists about the life and beliefs of Yasin Bhatkal, who correspondents say kept a low profile and did not make public statements. What information there is mostly comes from the Indian authorities.
Reports say Yasin Bhatkal was born in the southern state of Karnataka in 1983, and attended a madrassa before graduating in engineering, although it is not clear where he studied.
He appears to have become radicalised while a student, fraternising with other young hard-line Indian Muslims angered by anti-Muslim riots in Gujarat in 2002.
Reports suggest he was instrumental in laying the foundations for the IM around this time.
He later went to Dubai to help his father run a garments business, but is reported to have fallen out with him because of his hard-line views.
Intelligence officials say that on his return to India around 2008, Yasin Bhatkal resumed work with the IM, raising cash for the organisation by collecting donations and investing money raised. Some of this cash is believed to have been generated through a fake currency scam.
During this time he is believed to have learnt how to make explosives while working with two other alleged IM operatives Riyaz and Iqbal Bhatkal - who it is believed are not his brothers although they may be related to him.
An Indian intelligence dossier seen by the BBC suggests that Yasin Bhatkal's return to India reinvigorated the group which raised its profile with a string of deadly attacks.
While Riyaz Bhatkal is seen as being more aggressive than him, Yasin has a reputation for meticulous planning before each attack, ensuring that operatives are fully familiar with their targets and that nothing is left to chance.
Intelligence reports say he abandoned the IM's tactic of sending emails to claim responsibility for bomb attacks, concentrating his resources instead on ensuring that attacks were carried out at regular intervals and leaving it to the authorities to decide what message they conveyed.
Yasin Bhatkal's name became more high profile in 2010, when police investigating bomb blasts in Delhi were reportedly given details about him from two arrested suspects who said that he taught them how to assemble bombs.
Officials say that while he has not masterminded many high-intensity blasts, their regularity proved that he could strike anywhere at will - as conspirator, logistics head and recruiter, personally persuading many bombers that their actions were justified and providing them with face-to-face support.
According to officials, Yasin Bhatkal always visited a target days before an attack to carry out his own reconnaissance.
He has a reputation for guarding his information network fiercely, not trusting anyone, rarely using mobile telephone or email and constantly remaining on the move.
"Security agencies regard him as the only IM member with a technical background... and training in Pakistan," The Indian Express reported.