India launches first defence satellite GSAT-7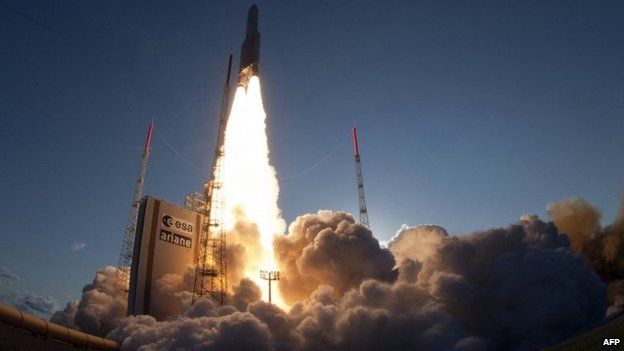 India has launched its first satellite dedicated solely to military use, the country's space organisation has said.
The Indian Space Research Organisation (Isro) launched the advanced multi-band communication satellite GSAT-7 from the Kourou spaceport in French Guiana early on Friday morning.
Isro said it will be placed in a geostationary orbit by next week and its transponders will be switched on.
The satellite is expected to boost the Indian navy's surveillance abilities.
An Isro official said that the satellite was "important from security and surveillance points of view", news agency Press Trust of India reported.
The launch was broadcast live on India's state broadcaster, Doordarshan
India has emerged as a major player in the multi-billion dollar space market with dozens of communication and weather satellites in orbit.
It has also announced plans for an unmanned voyage to Mars.