Indian students hit hard by falling rupee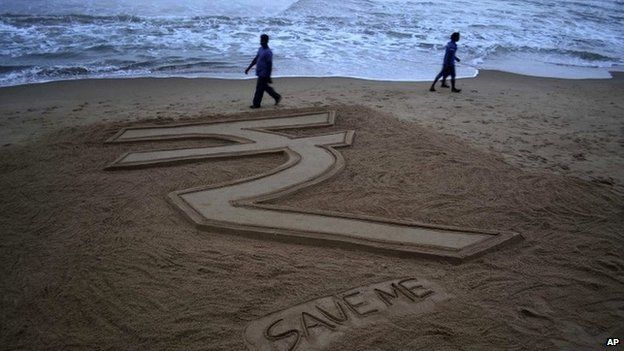 The falling Indian rupee has become a major challenge for Indian students studying abroad or planning to go to foreign universities. Experts say the number of students looking at foreign shores has not diminished, but many are moving to countries which are cheaper than the US or UK. BBC Hindi's Vartika Tomer speaks to three Indian students hit by the falling rupee.
I'm a doctor and I am going to Britain soon to pursue a course in hospital management. I have applied to Oxford Brookes University in Britain.
The fee for my course is £11,600 ($17,975). When I first planned to go abroad, it was 89 rupees to a pound. But now it has gone up to 106 rupees.
At the earlier rate, my tuition fee was coming to around 1.05m rupees, but now it is 1.2m rupees. It is too much for me. I had never anticipated that my budget would increase so much.
But since I have already deposited my fee for three months, I can't even change my decision. I feel I'm stuck - I cannot go back but I am also finding it difficult to move forward.
Earlier, I thought that the rate would come down again and I would pay the rest of the fee then, but I'm astonished to see the current pound rate. I wish I had bought more pounds earlier.
Now I will also have to change my way of living. Earlier, I had thought I'd rent a house, but now I think I will have to live in the hostel. I will have to think twice before spending any money.
I'm going to study at Regent's University of London. I will be doing my bachelor's degree in global management. My course will take nearly three-and-a-half years to complete.
The increase in the pound rate has affected my plans in a big way. When I initially made my plans, it was 85 rupees to a pound.
I will now have to look at accommodation again since I will not be able to afford the place I was planning to stay at.
My fees have also increased - earlier, it would have cost 1.8m to 2m rupees a year which, over three-and-a-half years would have amounted to a total expense of up to 7m rupees. But now I will have to pay an additional 1.5m to 2m rupees.
Since my father is paying for my studies, I will not need to source money from anywhere else.
But this difference is a lot and it will completely spoil the budget of middle-class families. It is quite possible that many people will now have to drop plans to go abroad for studies.
And those middle-class students who do go will be under pressure to take up part-time work and that may affect their studies.
I am very keen to go abroad for studies and am trying to find out what kind of courses I can apply for.
I am considering various options but I'm told that the cost will be around 3.2m to 3.5m rupees every year. My course would be for two years so the total cost would be 6.4m to 7m rupees. But my budget was 2.2m to 2.5m rupees per year.
Earlier, I had thought of going to either New Zealand or Australia but now I may have to change my plan.
I may have to look at a country which is cheaper or I may have to even cancel the plan for going abroad.
I may not be able to study in a good university because of the declining value of the rupee. I'm hoping that the value of the rupee would soon go up so that I can find some alternative.
I may be able to take a loan for studying abroad but for that I may have to mortgage my parent's property.