Indian media: Tendulkar rejects retirement talks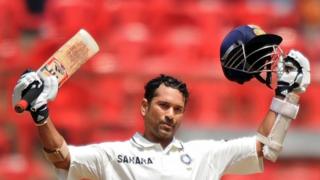 Indian star Sachin Tendulkar says he is in no rush to retire from Test cricket as the master batsman gets ready to play his 200th match later this year, media reports say.
Tendulkar, who turned 40 in April, told Zee News that he is not thinking about retirement at this stage of his career and wants to focus on the upcoming Twenty20 Champions League tournament as a player for the Mumbai Indians.
"I have this formula, don't jump forward, this is how I have approached my career," the batsman said amid heightened speculation over his retirement from the sport he has served for more than 20 years.
Moving on to international news, Foreign Minister Salman Khurshid on Tuesday said there are "issues of availability of insurance and vessels for carrying oil, and of a banking system active and ready to be used for payments before India decides to increase petroleum imports from Iran", The Economic Times reports.
Mr Khurshid's comments come in the wake of Petroleum Minister Veerappa Moily's suggestion to increase oil imports from the Islamic Republic, which accepts part of the payment in rupees, to reduce India's widening current account deficit.
In domestic news, offers of financial help are coming from all quarters for a 13-year-old child prodigy in the northern city of Lucknow, reports The Hindu.
Prominent non-government organisation Sulabh International has decided to fund the education of "wonder kid" Sushma Verma, who has become the youngest student to pursue a masters course in science, it says.
The student worked hard to get admitted in the course but was struggling to meet the financial requirements.
Promoting Urdu
Meanwhile, Urdu writers and poets from the all over the world are gathering in Delhi to find ways of promoting the language , the paper says in another report.
They will discuss issues such as role of the government, non-government organisations, cinema and the media in promoting Urdu, the paper adds.
In economic news, the falling rupee is forcing Bollywood directors to cut down on filming in foreign locations, reports the Deccan Herald.
According to a study by industry body Assocham, there has been a significant decline of 30-35% in filming in overseas locations in the last four months due to the rupee's depreciation, the paper says.
Assocham also expects Indian film-makers to turn to "less expensive" destinations in South East Asia, the Middle East and South Africa, rather than the US and Europe, the paper adds.
BBC Monitoring reports and analyses news from TV, radio, web and print media around the world. For more reports from BBC Monitoring, click here. You can follow BBC Monitoring on Twitter and Facebook.