India floods: More bodies recovered in Uttarakhand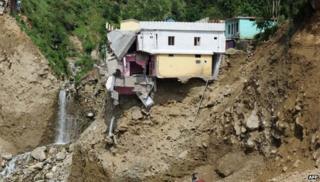 Rescue workers in the Indian state of Uttarakhand have recovered 75 bodies from the debris of June's devastating floods, taking the official toll to 528, police said.
The bodies were found near a destroyed bridge and a mountain in Ramabada.
Thousands were swept away after floods and landslides affected more than 4,000 villages.
In July, the government said that more than 5,700 people missing after the floods would be presumed dead.
Their families will be given financial compensation.
This year's early monsoon rains in the Uttarakhand region are believed to be the heaviest in 80 years.
Swollen rivers swept away entire villages in the state, where there were many travellers in what was peak tourist season.
The police said rescue workers had resumed their search for bodies "trapped in the higher reaches and ridges [of mountains] which we could not access earlier due to bad weather".
Senior police official Satyavrat Bansal told the BBC that the 76 bodies had been found in the upper reaches of a mountain in Ramabada and near the debris of a bridge that had been damaged in the floods.
The bodies found on the mountain "seem to be of devotees who climbed up the ridges out of fear after the mid-June calamity to save themselves and perished due to extreme cold conditions there," police official RS Meena told Press Trust of India.
However, authorities say, the exact number of deaths may never be known.
Many bodies may have been washed away or remain buried under debris. Some of the bodies were recovered in rivers downstream from the flood zone and cremated in the places where they were found.