Army deployed in India's Muzaffarnagar after clashes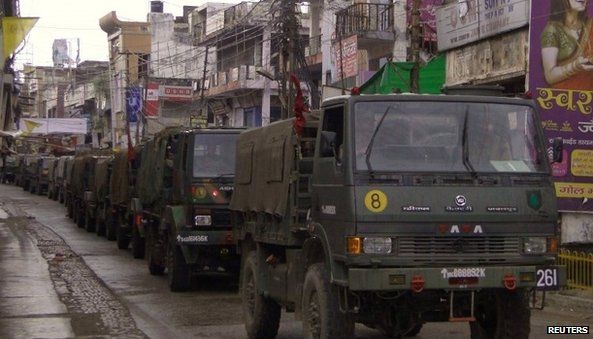 Indian army soldiers have been deployed in Muzaffarnagar in northern Uttar Pradesh state after 28 people were killed in religious clashes.
Several villages are under curfew after violence between Hindus and Muslims.
Officials say the death toll is likely to rise as more than 50 people were injured in the rioting.
The clashes were sparked by the killing of three men after they protested against the alleged harassment of a local woman.
Later the circulation of a fake video showing two men being lynched led to more violence, which spread to neighbouring villages in the district.
Among those killed in the weekend clashes was a TV journalist.
A total of 800 troops have been deployed in the area to bring the situation under control and more than 100 people have been arrested on charges of inciting violence.
"A curfew has been imposed in three riot-hit areas of Muzaffarnagar. The situation is still very tense, but under control,'' senior Uttar Pradesh official RM Srivastava told the Associated Press news agency.
The clashes broke out on Saturday after Hindu farmers held a meeting to protest against the killing of three men who had spoken out against the alleged harassment of a local woman.
Reports say a few participants made provocative speeches at the meeting.
Some of the farmers were attacked when they were returning home after the meeting, senior police official Arun Kumar said.
"The attackers seemed well planned. Some were armed with rifles and sharp-edged weapons," Mr Kumar said.
Within hours clashes broke out in neighbouring villages, officials said.
Uttar Pradesh experienced some of the worst religious clashes in India after a Hindu mob razed the 16th Century Babri Mosque in the holy city of Ayodhya in 1992.
This prompted nationwide rioting between Hindus and Muslims in which more than 2,000 people died.
India has seen a rise in religious violence this year with 451 incidents reported so far compared to 410 for all of 2012, a federal minister has said.