India Delhi gang rape lawyer faces 'misconduct' hearing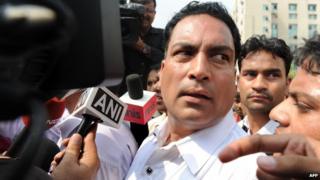 The post-trial comments of a defence lawyer in the Delhi gang rape case amount to "professional misconduct", Delhi Bar Council vice-chairman Rakesh Sherawat has told the BBC.
Mr Sherawat said AP Singh "could lose his licence for life if found guilty".
Mr Singh caused shock saying he would have "burned my daughter alive" if she was having "premarital sex and went out late at night with her boyfriend".
He told the BBC on Monday his personal views had been taken out of context.
"I was asked about my views on a personal matter and I answered that in my personal capacity of being the patriarch of my house," he told the BBC.
"My quote was not in the context of rape of any girl and it was misconstrued."
Mr Singh, the lawyer for Akshay Thakur and Vinay Sharma, made his comments outside court on Friday after the judge sentenced his clients and two other men to death.
His remarks - which were taken to be referring to the 23-year-old victim murdered in last December's attack - have caused a furore in India.
Anger and outrage
"Mr Singh's remarks were very offending. It amounts to professional misconduct," the Delhi Bar Council's Mr Sherawat told the BBC.
"As a lawyer, one has to maintain some dignity, we have to be very careful while commenting on a case, specially at a time when the eyes of the entire world are on us."
Mr Sherawat said Mr Singh's comment had led to anger and outrage among the legal community and that "every lawyer is feeling bad".
The 25-member Delhi Bar Council would meet on Friday to discuss what action to take against Mr Singh, Mr Sherawat said and added that "if he is found guilty, we can suspend his licence for a period of time or even life".
The December attack led to violent protests across India and sparked a national debate on the treatment of women.
Tough new laws were introduced in March which allowed the death penalty - carried out very rarely in India - to be handed down in the most serious cases of rape.
Last Tuesday the special fast-track court found Thakur, Sharma, Mukesh Singh and Pawan Gupta guilty on all counts.
In August, a teenager who was found guilty of taking part in the rape was sentenced to three years in a reform facility, the maximum term possible because the crime was committed when he was 17.
Another accused, Ram Singh, was found dead in his cell in March. Prison officials said they believed he hanged himself but his family allege he was murdered.