Digital Indians: The final Hangout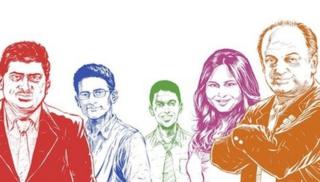 We are now in the last week of the BBC's special series on Digital Indians.
We've covered India's online evolution, and stories of five digital Indian innovators in very different areas
On Wednesday, 25 September at 20:15 India time (02:45 GMT), we'll be hosting the final Google Hangout of the series: 45 minutes with digital Indian innovators across the world.
This Hangout is your chance to put your questions to the experts.
So whether you want to be a successful software engineer or run your own online media business - you can send us your questions using the form below.
You can also tweet your questions to @bbcindia
If you're happy to take part please leave your contact details in the form as well.
You'll be able to watch the hangout live on BBC India's Google+ page and YouTube page.
Digital Indians in the Hangout:
Ben Gomes is an innovator in the world of search technology. He is vice president of search at Google, which processes 100 billion search queries a month. He and his army of search - a substantial number of the company's 44,000 employees - use algorithms in an attempt to make search intuitive and smart. Mr Gomes is also responsible for shaping the auto-suggestions users get as they type a query, and the "snippet" of text they get back.
Mariam M Mathew is chief operating officer of Manorama Online, the digital arm of the Kerala-based Malayala Manorama group. She oversees the group's newspaper website and other digital assets such as and mobile and tablet editions , and sites for matrimonial, estate and classified listings. Malayala Manorama is India's largest regional language newspaper, and the group has about 50 publications. Earlier, Ms Mathew was vice president at JP Morgan Chase in New York.
Raju Narisetti is senior vice president and deputy head of strategy for News Corp, heading digital content teams and strategy for wsj.com and other digital assets of Dow Jones. He's a pioneer of the integrated digital newsroom. As managing editor of the Washington Post, he drove the creation of one organisation from separate print and online operations. He was also the founding editor of Indian business newspaper Mint.
Ruchi Sanghvi is vice-president of operations at file-sharing site Dropbox. She was the first female engineer hired by Facebook, rising up to become principal product manager overseeing Facebook Platform and News Feed. In 2010, she quit Facebook and a year later started her own company, Cove, with two co-founders. They were acquired by Dropbox in 2012. Ms Sanghvi is an engineer from Carnegie Mellon University.
Sanjeev Bikhchandani is founder of India's top job site naukri.com, whose success turned his company Info Edge, which now has other sites for matrimonial, real-estate and other classified listings, into India's top web business. Info Edge also invests in new start-up businesses such as the online restaurant guide Zomato. Having delegated the running of Info Edge to other professionals, Mr Bikhchandani spends much of his time now mentoring those investments, and other start-ups entrepreneurs.
Rikin Gandhi is a social entrepreneur. He's founder and CEO of Digital Green, a non-profit organisation that trains farmers to make and show short videos where they record their problems, share solutions and highlight success stories. An American citizen who was all set to be an astronaut, he travelled to India for a software project - and stayed on. Thanks to him, 150,000 farmers - more than half of them women - have watched 2,600 such videos in 20 languages in more than 2,000 villages in seven states.