Lalit Modi: Former IPL cricket chief banned for life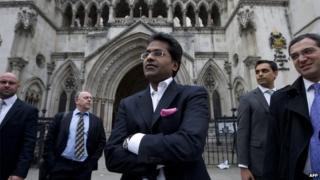 Former Indian Premier League (IPL) commissioner Lalit Modi has been banned for life by the country's cricket board for "indiscipline and misconduct".
The decision was taken at a special meeting of the Board of Control for Cricket in India (BCCI) in the southern city of Chennai on Wednesday.
Earlier in the day, the Supreme Court dismissed a petition from Mr Modi to stop the meeting.
Mr Modi, who denies any wrongdoing, said he was going to fight the ban.
"I was already gone since I had been suspended for three years, so I expected the ban. But I am going to fight them and the ban gives me more resolve to go after them," he told India's Times Now news channel from London where he now lives.
"Indian cricket needs cleansing and as far as I am concerned I am going to go after them. Till now they were colleagues. Time has now come to take everything out of the box and put it in [the] public domain," he added.
"I am coming after them. Wait and watch. I have not been sitting here [in London] idle."
The board had suspended him and then removed him from all involvement in cricket three years ago over corruption claims.
Mr Modi was instrumental in founding the IPL in 2008 and it has become a multi-billion-dollar industry.
The BCCI meeting "resolved that Mr Lalit Modi is guilty of committing acts of serious misconduct and indiscipline, and... is hereby expelled from the board," BCCI secretary Sanjay Patel said in a statement after Wednesday's meeting.
"He shall forfeit all his rights and privileges as administrator. He shall not in future be entitled to hold any position or office, or be admitted in any committee or any member or associate member of the BCCI."
The main accusations against Mr Modi related to rigging bids during the auction of two new franchises in 2010. He was also accused of selling broadcasting and internet rights without authorisation.
Mr Modi is yet to react to the BCCI ban - but in the past he had said that he did not expect a fair hearing from the board as they were "biased" and called for an independent panel.
The IPL is the best-paid of the world's Twenty20 cricket leagues, with top Indian and international players taking part each spring.
As well as being the public face of the IPL, until his removal in 2010 Modi had also been one of five vice-presidents of the BCCI and chairman of the Champions League Twenty20, a club tournament organised jointly by India, Australia and South Africa.