Digital Indians: What is the future of the language web?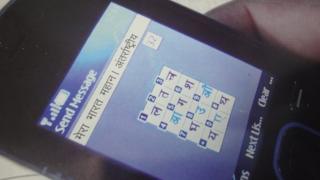 Will the web ever be friendly to languages other than English? That was one of issues taken up by Indian innovators in the final Google Hangout to mark the BBC's special series on Digital Indians. Here are some excerpts from the conversation:
Ben Gomes, vice president, Search, Google
Search for Google always been about all languages. Indian languages present special challenges, because there is very little content in these languages. So the biggest thing that can be done is the creation of more content.
But we've made huge advances in translation, and as we get better at that, it begins to work better even for smaller languages.
India's a place with less written content in any given language, compared to the number of speakers of that language.
Our work is not just translation, though.
We have Hindi search, Hindi interfaces, and many ways to input your query in Hindi. But the web in Hindi and other languages is really small. So for many queries, there won't be that much information.
Mariam M Mathew, chief operating office, Manorama Online
At the Manorama group, we got online with language in 1997, and then we didn't even have a font that would work properly on the web.
It's only now that we're getting unicode-compliant fonts - which themselves aren't that brilliant: they have alphabets that don't come out well, and the search is not good. It's a mess out there.
So language is a huge challenge, which has yet not been taken up by most of the large tech players, whether in search, or getting a good Unicode-compliant font, or display rendering for mobiles and tablets. Everything becomes an issue.
Sanjeev Bikhchandani, founder, Naukri.com
We launched a Hindi version of our matrimonial site Jeevansathi, about 10 years ago. We ran it for a couple of years and discovered there wasn't much traffic.
We figured that maybe English was the first filter to be on the net in India. So we abandoned that effort after a couple of years.
Maybe it's time to try it again - maybe that was too early. So we'll try it again with an Indian language and see what happens.
But unless there's sufficient content and applications in local languages, you won't find many people on the net who are proficient only in an Indian language. For now, most of them will be also English speakers.
Raju Narisetti, senior vice president and deputy head of strategy, News Corp
I'd imagine there's a language opportunity in India, because despite conventional wisdom that says the Indian market, say in newspapers, continues to grow, significant growth is really in languages.
I don't think the real problem is that the backlog needs to be digitised before it becomes viable for app builders and for media companies to [get into the language web].
It's actually about going forward with language content. It's hard to imagine a media business in India that is not going to look at Hindi, Gujarati or some south Indian languages, and not just English in the future.
Rikin Gandhi, founder and CEO, Digital Green
We actually have made videos for farmers in 20 Indian languages, all of which are tribal dialects.
What's interesting is that though our set of videos is relatively small - just 2,600 - they have got nearly a million views. These are niche, local-language videos on various agricultural practices.
Catch up with the Digital Indians here.
At the beginning of the series we asked for your pick of men and women you think are leveraging digital technology. We have now curated a Digital Indians Twitter list and Google+ circle.