Mumbai gang rape: 'Missing' defendant is found in jail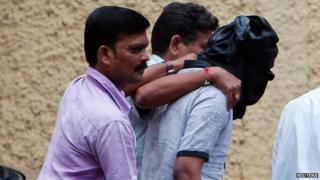 A man arrested in a high-profile gang rape case in the Indian city of Mumbai is in prison, officials have confirmed, after reports that he had gone missing.
Jail officials had earlier denied that Siraj Rahman Khan was in their custody, leading to confusion just days after a militant suspect escaped from court.
Mr Khan is among five people charged with raping a photo journalist.
The 22-year-old woman was attacked at an abandoned textile mill where she was on assignment with a male colleague.
The case renewed public outrage over sexual violence in India.
Reports that Mr Khan was nowhere to be found sparked a flurry of media reports on Thursday, when the defendants were due to be produced in court for a hearing.
"There is confusion as to where rape accused Siraj Rahman Khan is. The court has issued a notice to the Thane jail superintendent to come and explain the lapse," public prosecutor Ujjwal Nikam told reporters.
Initial media coverage suggested Mr Khan might even have escaped from court.
Adding to the sense of official bungling, police insisted he was in jail, while prison officials said they were sure he was with the crime branch of Mumbai police.
The confusion lasted until jail officials confirmed he had been in prison all the time.
Correspondents say the episode has done nothing to build confidence in the reliability of prison officials and police in Mumbai.
Last week, a suspected member of militant group Indian Mujahideen Afzal Usmani escaped from a court in the city. He is yet to be found.