Laloo Prasad Yadav: India ex-minister convicted in 'fodder scam'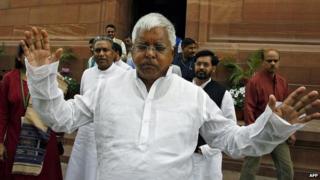 A former Indian minister, Laloo Prasad Yadav, has been sent to jail after he was convicted in a long-running corruption case.
A court found him guilty of corruption and criminal conspiracy in a notorious case known as the "fodder scam", which first came to light in 1996.
He was charged with embezzling state funds intended for cattle fodder while he was chief minister of Bihar state.
Yadav, who later became federal railways minister, denied the charge.
He will be sentenced on 3 October. He has been sent to Birsa Munda jail in Ranchi in the eastern state of Jharkhand.
He is among 45 people convicted by a special court.
Lawyers present in the Ranchi court said Yadav could be jailed for between four and seven years.
Last March, a court framed charges against Yadav and two other senior politicians in the case which focused on the fraudulent withdrawal of funds by officials from treasuries in the districts of Banka and Bhagalpur between 1994 and 1996.
Yadav said he had been falsely implicated.
There were a total of 56 defendants in the case. During the trial, seven of them died, two decided to give evidence for the prosecution, one admitted to the crime and one was discharged, reports say.
Correspondents say Monday's verdict will be crucial for Yadav's political fortunes as a recent executive order protecting convicted MPs and legislators from Supreme Court ban on holding office is likely to be withdrawn.
In an uncharacteristic outburst last week, Rahul Gandhi, senior leader of India's ruling Congress, said the move by his government to protect convicted MPs was "complete nonsense".
In 2006, a court acquitted Yadav and his wife Rabri Devi - also a former chief minister of Bihar - in a case where they stood accused of amassing wealth disproportionate to their income.
Laloo Yadav is one of India's most colourful politicians. He leads a regional party in Bihar.
He resigned as chief minister of Bihar after the allegations of corruption arose. His wife Rabri Devi was installed in his place.
Yadav's Rashtriya Janata Dal party lost power in state elections in 2005.