Indian media: Tributes to Tendulkar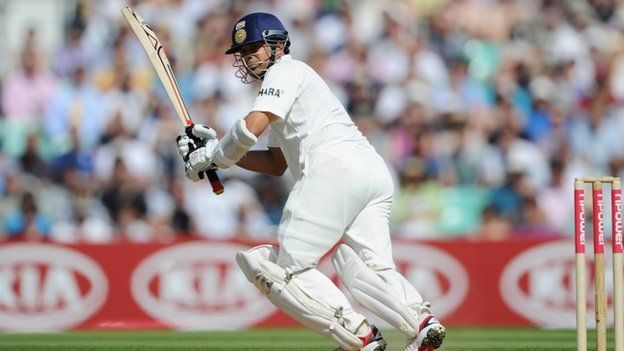 Media in India are paying tributes to Sachin Tendulkar following the master batsman's decision to retire from cricket after playing his 200th Test match in November.
Newspapers feel there will "never be another" player like Tendulkar, who has enthralled fans in India and around the world for close to 25 years.
Tendulkar has already retired from one-day and Twenty20 formats of the game.
Front-page banner headlines in Friday's newspapers are reflecting the nation's love and devotion for the 40-year-old player.
"There will never be another you", says the Hindustan Times, while The Asian Age says "cricket will need new god".
"There has never been anybody like him in Indian cricket. There is unlikely to be anybody like him after his departure," says The Hindu.
"No other Indian sportsman ever managed to bat, bowl, serve, spike, box, kick, volley his way into the hearts of so many of us - seven billion plus, right? - but as a cricketer par excellence Sachin has done precisely that and you cannot even be sure that this is just another sporting farewell," the paper adds.
Besides his exceptional batting skills, The Indian Express also praises Tendulkar for being "the sage voice in the dressing room" and terms him the "prototype" that inspired the next generation of cricketers.
The Deccan Herald says Tendulkar "adjusted his game to the needs of different formats - Test, one-days and Twenty20 and kept himself relevant to this day, and that makes him a special breed. So, goodbye Sachin Ramesh Tendulkar. We will not see another like you".
Moving on to politics, Congress party vice-president Rahul Gandhi has termed Prime Minister Manmohan Singh his "guru", adding that he has learnt a lot from him, reports The Times of India.
Mr Gandhi's comments came after many saw his opposition to a crucial government ordinance as "an attack on the prime minister".
"Looking to correct an impression that his harsh criticism of the ordinance protecting convicted legislators from losing their seats belittled Prime Minister Manmohan Singh, Mr Gandhi heaped praise on Singh, calling him one of two gurus in his life," reports The Times of India.
Meanwhile, in international news, India says it is ready to sign free-trade agreement with Asean nations to boost bilateral trade to $100bn by 2015, The Tribune reports.
Mr Singh made this announcement while addressing the 11th Asean-India summit in Brunei on Thursday.
And finally, Bollywood legend Amitabh Bachchan is celebrating his 71st birthday on Friday.
Bachchan had a special celebration on the set of his television quiz show Kaun Banega Crorepati - Indian version of Who Wants to Be a Millionaire - with a 100-year-old fan who has Alzheimer's disease, reports the NDTV website.
BBC Monitoring reports and analyses news from TV, radio, web and print media around the world. For more reports from BBC Monitoring, click here. You can follow BBC Monitoring on Twitter and Facebook.
Related Internet Links
The BBC is not responsible for the content of external sites.