Three killed in fresh violence in India's Muzaffarnagar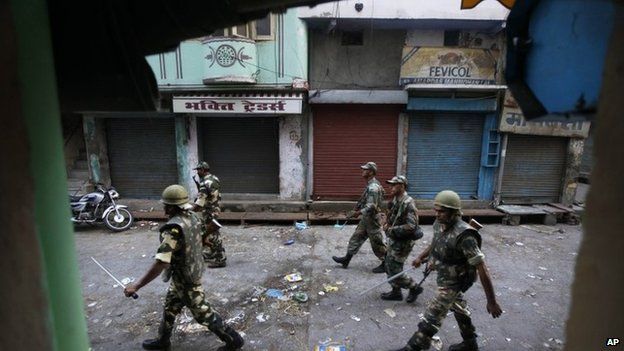 Three people have been killed in fresh violence in the northern state of Uttar Pradesh, which was hit by religious riots last month.
While some reports described the violence as a religious clash, police told the BBC that it was sparked off by a dispute between two families.
More than 60 people died in the Hindu-Muslim clashes which erupted on 7 September in the town of Muzaffarnagar.
The riots were described as the worst in India in a decade.
Thousands of people fled their homes in the violence which was sparked by the killing of three men who had objected to the harassment of a young woman.
In the latest incident on Wednesday evening, three Muslim men were beaten to death while another was injured in clashes between local Muslim and Hindu communities at Muhammadpurraisingh village, senior local official Kaushal Raj told Press Trust of India news agency.
Muzzafarnagar police superintendent Hari Narayan Singh told BBC Hindi that the violence was triggered by a "family dispute".
Uttar Pradesh, India's most populous state, saw serious Hindu-Muslim riots in 1992 after the demolition of the Babri mosque in Ayodhya by hardline Hindus.
Correspondents say some political parties have accused each other of trying to polarise the communities along religious lines ahead of next year's general elections.