Tarun Asthana: Indian-born man dies after Auckland attack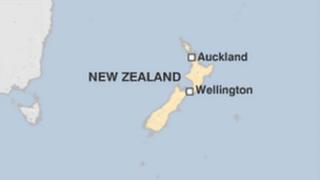 An Indian-origin man has died in hospital after he was punched outside a fast food restaurant in New Zealand.
Tarun Asthana, 25, suffered serious head injuries when he was attacked outside a McDonald's in the city of Auckland on Saturday morning, police said. He died on Monday morning.
Reports said Asthana was hit after he made a comment about a girl, although it was not clear what he had said.
A man was arrested and charged with assault in connection with the attack.
Grenville MacFarland, a sailor in the New Zealand Navy, was granted bail and ordered to return to court on 15 November.
Asthana, a trainee school teacher, had visited several night clubs before heading to the fast food restaurant, reports said.
He was knocked to the ground by a single punch and lost consciousness after his head struck the pavement, police said.
His father, who was in India at the time of the attack, has now returned to New Zealand.
Tarun Asthana's friends have described him as the "most nice, peaceful guy".
The Indian community in New Zealand is outraged over the incident, Venkat Raman, editor of the The Indian Newslink newspaper in Auckland, told BBC Hindi.
Mr Raman said he did not think this was a targeted attack as Indians were not disliked in New Zealand.