Mahatma Gandhi's spinning wheel sold for £110,000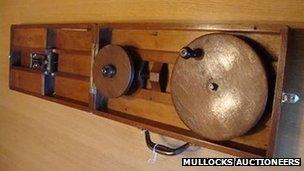 A spinning wheel used by Indian independence hero Mahatma Gandhi while in prison has been sold at auction for about £110,000 ($180,000).
He used it to spin thread and make his own clothes in Pune's Yerwada jail in the early 1930s.
Gandhi gave the wheel to the American Free Methodist missionary Reverend Dr Floyd A Puffer in 1935.
Auctioneers Mullock's said it had been sold to an anonymous phone bidder at Ludlow Racecourse in Shropshire.
Richard Westwood-Brookes from the auction house said the price had "exceeded expectations."
"The guide price for the wheel (between £60,000 ($96,000) and £80,000) was based on what the owner thought they could get, which I initially thought might be a bit high," he said.
"Once the interest started to come in online and on the phones it took its own momentum."
The portable spinning wheel, called a charkha in Hindi, "folds into a bundle about the size of a portable typewriter and has a handle for carrying. When unfolded for use it is operated by turning a small crank which runs the two wheels and spindle of the device", the American monthly Popular Science wrote in 1931.
Gandhi spent time daily on spinning and often described it as a form of meditation.
His artefacts are regularly sold at auctions and are popular with collectors.
In February this year Mullock's set a record with a letter of Gandhi fetching £115,000. In May a collection including his sandals, shawl and other personal effects topped £250,000.
Last year a pair of Gandhi's glasses with a guide price of £10,000 sold for £34,000 at the racecourse.
Related Internet Links
The BBC is not responsible for the content of external sites.