Mumbai gripped by Tendulkar farewell fever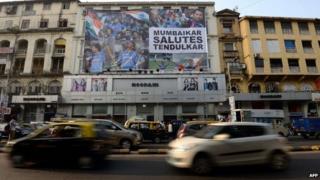 The final Test in the career of Indian cricket legend Sachin Tendulkar is under way in his home city of Mumbai. The BBC's Sanjoy Majumder reports on the mood in the city.
If you are in Mumbai this morning, you will be forgiven if you think all roads lead to the Wankhede stadium.
Just off the city's Marine Drive - a wide boulevard which snakes around in a semi-circle with a backdrop of art-deco buildings - the crowds began building up a good two hours before the match.
Fans, many of them dressed in the Indian team blue, faces painted, flags aloft queued in excitement.
One fan's T-shirt had the number 10, Tendulkar's jersey number, with the words GOD written on top.
On D Road, just outside the stadium's main gate, the police were out in full force, keeping reporters and fans at bay as the great and good began arriving in their limousines.
This is after all India's financial and entertainment capital. Politicians, business leaders, Bollywood stars - everyone is here for a piece of the action.
A huge cheer went up as Bollywood superstar Aamir Khan arrived, waving to the crowds.
Festive
There was almost a similar welcome for the West Indian cricket star Brian Lara, who's often been compared to Tendulkar.
From corporate bankers in business suits, to young boys in T-shirts and jeans, to women with expensive sunglasses perched on their heads, to hardcore cricket fans - they are all here today.
Tickets have been hard to come by - only a few thousand were made available to the public.
Even now a few people are on a desperate hunt for tickets - there are rumours they are easily available on the black market, at a considerable premium.
Inside the ground, the atmosphere is festive.
Even though India is fielding, and Tendulkar is not in the thick of the action, nobody minds.
Every time he comes anywhere near the ball, the crowds start cheering, with cries of "Sachin, Sachin" reverberating around the stadium with the seating capacity of 30,000.
Everyone wants to savour every minute he is on the field, in what are his last few days as an international cricketer.
It is also an emotional moment.
For nearly a quarter of a century, Tendulkar has been the core of Indian cricket, its flag-bearing icon.
Two fans hold up a banner inside with the words: "Other cricketers have a past, Sachin has a history."
It's going to be hard for most to let him go.