Subhash Chandra Bose: Secret files on independence hero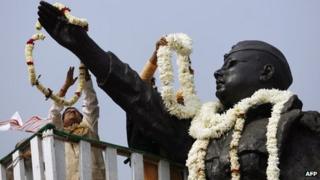 India has 20 secret files relating to the 1945 disappearance of independence leader Subhash Chandra Bose, officials say.
The prime minister's office says that none of the files have been disclosed to the public because they may "prejudicially affect relations with foreign states".
Correspondence relating to the files have been seen by the BBC.
Bose disappeared at the end of World War II after he sided with Japan.
Thousands of Indian soldiers joined a militia formed by him in the final years of the independence struggle.
Indian officers and soldiers of the British Indian Army - who were captured by the Japanese on the eastern front during the early years of World War Two - switched their loyalty to Bose and formed the core of the Indian National Army (INA).
Treacherous route
Now parliamentarian Sukhendu Sekhar Roy says he found out about the existence of the documents through various sources, but has repeatedly been denied the right to raise the issue in the upper house of parliament - the Rajya Sabha.
"I have tried to raise the issue at least seven to eight times," he told the BBC. "But my questions were never allowed."
He says that he is now contemplating legal action because "the nation has a right to know how the hero of our freedom movement disappeared".
In 1941, Bose escaped from his Calcutta home despite the efforts of British police to catch him. He was under house arrest at the time.
Taking a treacherous route through Afghanistan, he reached Germany and met Hitler to request military help in ousting the British from India.
From there, he travelled to Japan to get Tokyo's help in forming the INA.
After rigorous training, the INA marched towards India through Burma and at one point even captured part of what is now the north-eastern Indian state of Manipur.
But it was forced to surrender after a British counter-attack - and in August 1945, Bose disappeared after last being seen at Taihoku airport.
After that, it remained a mystery what exactly happened to him.
Some believe that he died in a plane crash, others that he came back to India as a Hindu monk and some that he was kept in solitary confinement in Siberia.
After independence, several enquiry commissions were formed to find out what happened to him, but none produced conclusive findings. The most recent investigation - whose findings were disputed by the government - said that he did not die in an air crash.
"It's quite possible that if the secrets are revealed, our relationship with some foreign countries might get strained because they were involved in this 'conspiracy'," Mr Roy said.
"But my doubt is a few political leaders of that period were also involved in it and the government is trying to protect those leaders - who still enjoy immense respect from the people of India."