India editor Tarun Tejpal questioned in sex case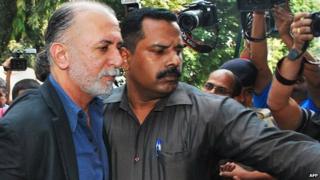 Police in the Indian state of Goa are questioning the editor of a top news magazine over sexual assault allegations after a court on Sunday remanded him in custody.
Tarun Tejpal of Tehelka magazine was arrested on Saturday.
Mr Tejpal has not been formally charged but denies the accusations against him.
His unnamed accuser said what he did "falls within the legal definition of rape".
She initially levelled claims against Mr Tejpal in the media following the alleged incident at an event organised by the Tehelka magazine in Goa earlier this month.
This prompted police to launch an investigation with which she is now co-operating.
Six journalists, including the publication's managing editor, have resigned over the controversy.
On Sunday, a court in Goa remanded Mr Tejpal in police custody for six days. Goa police had sought a 14-day detention.
The scandal has dominated headlines in India, with critics accusing Tehelka magazine - one of India's top investigative titles, which has exposed gender inequality and officially sanctioned misogyny - of hypocrisy and double standards, say correspondents.
The case is particularly resonant for Indians because it comes in the wake of a debate about attitudes to sexual violence after the brutal gang rape and murder of a woman in Delhi last year.