YouTube channel becomes rallying point for India's Dalits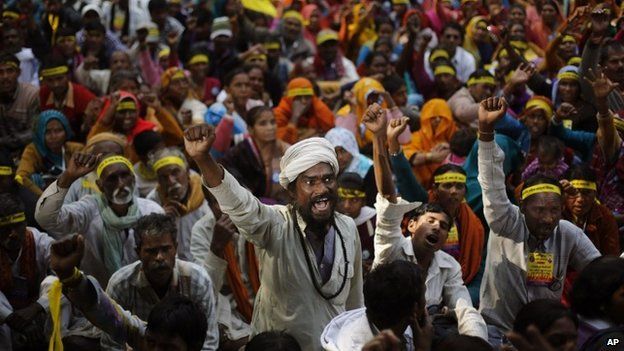 Dalit Camera, a popular YouTube channel dedicated to India's Dalits (formerly untouchables), has become a rallying point for the community, reports Vanya Mehta.
"I believe that the protests in Delhi over the gang rape of a student have no other political significance than a mere middle class fury," feminist and Dalit activist Rekha Raj says, standing with a microphone in the city of Kottayam in the southern state of Kerala.
Men riding motorcycles slow down to hear her speak as a barrage of traffic noise competes against her voice.
Ms Raj is talking on Dalit Camera about the significance of the protests and media outcry that followed the gang rape of a middle class 23-year-old medical student in Delhi in December 2012.
In the traditional Hindu caste system, Dalits are considered the lowest and poorest. They make up 16% of India's population and are often forced into low-paying, undesirable occupations. And despite affirmative action programmes, they continue to face discrimination.
Dalit Camera is an attempt at a historical documentation of the realities of life in India "through the eyes of the untouchable".
It was founded by Bathran Ravichandran, a doctoral student of English at the English and Foreign Languages University (EFLU) in Hyderabad, the state capital of Andhra Pradesh.
The two-year-old channel run by 23-member team equipped with four video cameras boasts some 1,400 subscribers. Some of its videos have been viewed more than 50,000 times.
Mr Ravichandran comes from the "manual scavenging" caste, those who remove human excrement from toilets which do not have the modern flush system.
He was the first from his caste in his district in Tamil Nadu in southern India to receive higher education. He says he began recording video footage of atrocities against Dalits after 20 students attacked him on the university campus.
"The incident really changed my life," Mr Ravichandran said.
He says Dalit movements and atrocities against them did not receive any exposure in the mainstream media, so through Dalit Camera he decided to "give them a voice on the internet".
Recently, they released a series of videos where Dalit women or activists were seen discussing the reaction to the Delhi gang rape and its significance for lower-caste women.
Some of these activists allege that upper-caste landowning men, who employ lower-caste women in farming, are often the perpetrators of high levels of sexual violence. These women do not have the facility to speak out and, therefore, the incidents are unrecorded in the media.
Others believe the problem of safety for women in India transcends caste and class.
Women's and children's rights activist Linkan Subudhi mobilised her friends to speak out on Dalit Camera against the state of life for women in India after the Delhi gang rape.
"Caste is not a reason for being raped. Any woman is now unsafe," she said.
Dalit Camera provides information not only on the plight of the lower-caste women, but also takes up other controversial issues, says K Satyanarayan, professor of Dalit studies at EFLU.
The channel has carried videos of activist-writer Arundhati Roy, Dalit music, and a southern Indian soft-porn actress talking about male dominance in the film industry.
Past attempts to give a voice to the Dalit community did not see the same kind of success.
In 1997, Punitha Pandiyan founded a newspaper called Dalit Masura in Tamil Nadu, but the paper struggles to stay in circulation, as often shop owners refuse to sell it because they do not want to associate with the Dalit struggle.
But since its launch in 2011, the YouTube channel has begun to gain traction outside of Andhra Pradesh. It has already gained popularity in Kerala and West Bengal and is also harnessing a small but growing following in others states as well as internationally, says Prof Satyanarayan.
"Dalit Camera has become mainstream. It has had a reach I could not have imagined," he says.
Vanya Mehta is an independent journalist based in Boston