Suchitra Sen: Iconic Indian Bengali actress dies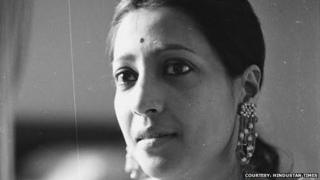 Veteran Indian actress Suchitra Sen has died in the eastern city of Calcutta, aged 82.
Sen had been admitted to a hospital in the city last month with a chest infection and her condition worsened on Thursday night, doctors said.
Known as the Greta Garbo of India for leading a reclusive life after she left films, Sen was an iconic star of regional Bengali cinema.
She also acted in a number of Bollywood films such as Devdas and Aandhi.
Sen teamed up with Bengali star Uttam Kumar to form a popular pair that delivered a series of hits in Bengali cinema for over two decades.
But she quit films in 1978 and led a hermit-like existence, reportedly refusing to meet people outside her own family. She had not been seen in public or photographed in the past three decades.
'Redefining stardom'
"As one half of one of Indian cinema's most popular and abiding screen pairs, Suchitra Sen redefined stardom in a way that few actors have done," film critic Saibal Chatterjee told the BBC.
"While she and Uttam Kumar reigned over Bengali films for over two decades, her Garbo-esque retreat from the public life after her retirement only strengthened her allure."
Mr Chatterjee said Sen "combined understated sensuality, feminine charm and emotive force and a no-nonsense gravitas to carve out a persona that has never been matched, let alone surpassed in Indian cinema".
Sen made her debut in 1953 with the hugely popular comedy Share Chuattar (Seventy-four-and-a-half), which was also her first film with Kumar.
Her performance as a nurse hired by a psychiatrist to develop personal relationships with male patients in the 1959 film Deep Jwele Jaai was hailed as one of her best.
The late Bollywood star Dev Anand, who acted with her, once described Sen as "the doe-eyed, dusky beauty and immensely popular star of Bengal".
Sen is survived by her actress daughter Moon Moon Sen. Her grand daughters, Riya and Raima Sen, are also actresses.