India Congress party worker builds Sonia Gandhi temple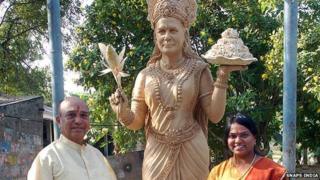 A temple with an idol of Sonia Gandhi, the head of India's ruling Congress party, is being built by a supporter in the Indian state of Andhra Pradesh.
P Shankar Rao, a former minister, said the shrine with a 9ft (2.7m) idol of Ms Gandhi was his tribute to his leader.
The 67-year-old Italian-born Mrs Gandhi is one of the country's most powerful politicians.
She belongs to the influential Nehru-Gandhi dynasty, three of whose members have been Indian prime ministers.
This is not be the first time that a temple devoted to a politician is being built in Andhra Pradesh.
Earlier, temples have been built in the memory of former prime minister Indira Gandhi and popular film star-turned-politician NT Rama Rao.
Mr Rao told the BBC that he was building the temple in Mahbubnagar district to "thank" Mrs Gandhi for her party's decision last July to split the southern state of Andhra Pradesh and create a new state of Telangana. The temple will also be named after Mrs Gandhi, he said.
With a population of 35 million, Telangana comprises 10 of Andhra Pradesh's 23 districts including Hyderabad, India's sixth biggest city.
"This is our way of saying thank you to Sonia Gandhi for her historic role in fulfilling the decades-old dream of separate Telangana state," Mr Rao said.
Local artists are at work on Mrs Gandhi's idol, which holds a sapling in one hand and a bowl of fruit in the other.
"I hope this temple will thrive and people will come here to offer prayers to Mrs Gandhi," Mr Rao said.
Some in the state, however, have criticised the temple, describing it as "sycophancy at its peak".
"This is nothing but sycophancy for advancing personal interest," senior Communist leader in the state Ramakrishna told the BBC.
"India is a democracy and there is no place for such irrational practice in a democracy. Political leaders should be respected but not worshiped like a God," he said.
"Sonia Gandhi might not be aware but if she knows it, she should stop it," he added.
Mrs Gandhi holds no official post, but many consider her the de facto head of the government.
The powerful Nehru-Gandhi dynasty has governed India for most of the time since the country gained independence from British colonial rule in 1947.
The final decision on the new Telangana state lies with the Indian parliament. The state assembly must also pass a resolution by 23 January approving the creation of what will be India's 29th state.