Indian minister Shashi Tharoor denies Twitter affair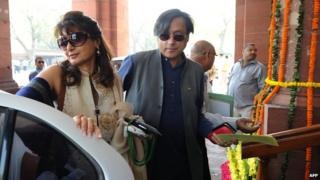 An Indian minister and his wife have said they are happily married after a series of tweets appeared to reveal that he was having an affair.
Shashi Tharoor and Sunanda Pushkar said the "unseemly controversy" had arisen from "some unauthorised tweets" from their accounts.
However, Ms Pushkar earlier told two newspapers their accounts had not been hacked and she had sent the messages.
Mr Tharoor has more than two million followers on Twitter.
He is India's human resource minister and married Ms Pushkar, a former Dubai-based businesswoman, in 2010.
The row erupted after tweets appeared on Mr Tharoor's account on Wednesday showing messages between Mr Tharoor, 57, and Pakistani journalist, Mehr Tarar, which appeared to hint at a relationship between the two.
Mr Tharoor tweeted late on Wednesday that his account had been "hacked", while Ms Tarar denied having an affair with the minister.
'Nothing to hide'
Ms Pushkar, however, told The Economic Times newspaper that the couple's Twitter accounts had "not been hacked" and that she "had been sending out these tweets".
She told the newspaper that she had been posting private messages sent to Mr Tharoor by the Lahore-based Ms Tarar.
Ms Tarar tweeted that she had "always praised Shashi Tharoor OPENLY on twitter. Wrote an op-ed on him. Reviewed his book. Forwarded tweets. Only b/c [because] NOTHING to hide".
The Indian Express newspaper quoted Ms Pushkar as saying that her husband was having an "extra-marital affair" with Ms Tarar and that she would "seek a divorce".
"That woman [Ms Tarar] woman pursued and pursued him [Mr Tharoor]... men are stupid anyway... for all you know she is a Pakistani agent. Where's love, where's loyalty in this world… I am so distraught," she was quoted as telling the newspaper.
Ms Pushkar further told the NDTV news channel on Thursday that Ms Tarar was pursuing her husband.
"I don't know if it's love, lust or obsession... as a man he [Mr Tharoor] may have been flattered but that doesn't mean he will leave his wife," she said.
As the controversy grew, the couple issued a statement saying that they were "happily married and intend to remain that way".
"Various distorted accounts of comments allegedly made by Sunanda have appeared in the press. It appears that some personal and private comments responding to these unauthorised tweets - comments that were not intended for publication - have been misrepresented and led to some erroneous conclusions," the statement said.
The statement said Ms Pushkar "has been ill and hospitalised this week and is seeking to rest. We would be grateful if the media respects our privacy".
Mr Tharoor, a former UN diplomat, resigned from his first ministerial position in 2010 amid controversy over his role with the winning bid for a new Indian Premier League (IPL) cricket team.
Ms Pushkar, then a friend of Mr Tharoor, had allegedly received a free stake in the franchise, an allegation that both denied.