Shashi Tharoor's very public tragedy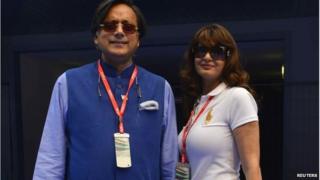 Shashi Tharoor is no stranger to controversy, but the latest one is the most tragic of them all.
In 2009, Mr Tharoor, a dapper former UN-diplomat-turned-junior minister for foreign affairs in India's ruling Congress government was ticked off by his party for some controversial tweets. With more than 160,000 followers on Twitter then, he was derisively labelled by some as the Tweeting Minister.
Next year, and 700,000 followers on Twitter later, Mr Tharoor got embroiled in another controversy which cost him his job. He quit as junior minister for foreign affairs amid a controversy over his role with the winning bid for a new Indian Premier League (IPL) cricket team. The tournament itself was steeped in sleaze, so it made matters worse. Mr Tharoor denied the allegation about his role.
Mr Tharoor had made an impressive electoral debut in 2009 and joined the government. In his mid-fifties, he was hailed as young, meritocratic and energetic in India's gerontocratic politics. His supporters said he was an unconventional Indian politician: hard working, peripatetic and engaging constantly with his young followers on social media.
His articulacy had made him a darling of the English TV news networks; he was also a prolific writer of columns and books on a diverse range of subjects. Whenever I commissioned a piece for the BBC - he wrote a well-argued defence of his leader Manmohan Singh's record in office and a piece on Indian cricket after Sachin Tendulkar's retirement - Mr Tharoor always delivered well before the deadline despite his busy schedule.
Four years after his first mini-scandal, Mr Tharoor had returned to the government as the human resources minister, and amassed more than two million Twitter followers. But his life has now taken a tragic twist that bears no comparison to his troubles in the past.
His wife, Sunanda Pushkar, a former Dubai-based businesswoman, was found dead in a Delhi hotel room after a row on Twitter appeared to reveal that he was having an affair with a Pakistani journalist Mehr Tarar. Both Mr Tharoor and Ms Tarar have denied this.
Ms Pushkar had initially told TV networks and newspaper that her husband was having an affair and she was planning to divorce him, and then appeared to have backtracked later, agreeing to a joint statement that the couple were "happily married and intended to stay that way".
Since their marriage in 2010, the couple have been the toast of the town and thriving fodder for page three, usually a combination of gossip and stories on parties in luxury hotels. Their friends would coo that they were deeply in love and made a perfect couple - the dapper politician and his convivial wife.
The media can be an unkind beast when a conventional narrative takes an unkind turn. There are reports that relations between the two were strained for a while, and that Ms Pushkar was suffering from various ailments. And there's the inevitable gossip on how Twitter has been the bane of Mr Tharoor's life. There are also lachrymose headlines: "A modern romance that ended in tragedy", says one headline, while another talks about "A union full of kisses, tweets and turns".
No wonder the "twitterati" has been agog with Mr Tharoor. When the controversy erupted, I spotted a tweet saying his marriage was ending on Twitter. Those who live by Twitter, die by it, said another. Writer Suketu Mehta tweeted that Ms Pushkar's death was 'murder by Twitter'.
But to suggest that social media was responsible for this awful tragedy is an exaggeration. What happened in the Delhi hotel room on Friday evening, of course, should be left to the police to investigate. Mr Tharoor's son, a journalist with Time magazine, has rightly asked people to respect their privacy. Whether that will happen in the febrile world of social media, which both Mr Tharoor and Ms Pushkar embraced, is a moot point.
But it is clear that the tragedy may set back Mr Tharoor's political career as his beleaguered Congress party gears up for the general election in a few months. Mr Tharoor has been a proactive MP for his constituency in Kerala and, as one of his supporters tweeted, that "doesn't change". But will his party allow him to contest his seat this summer?