India's 'Bullet baby': Born under fire in Mumbai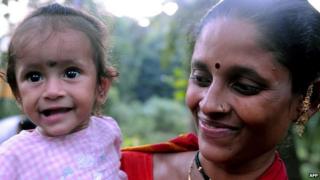 Five-year-old Goli (Bullet in Hindi) was born during the 2008 Mumbai attacks, in which 166 people died, as a gunfight raged in the corridors of the hospital.
When mother Viju, 33, and her husband Shamu Lakshman Chavan, 38, arrived at Mumbai's Cama Hospital in the evening of 26 Nov 2008, they did not notice anything out of the ordinary.
The only thing on Mr Chavan's mind was his wife's labour. "I was only thinking of my wife in so much pain," he says. "I just wanted to get her to the doctor."
Cama and Albless is a charitable hospital for women and children. Viju was admitted to the maternity ward on the fourth floor and her husband was asked to go buy some medicines from another nearby hospital.
He had just arrived at the lift when he heard the sound of firing. "I first thought it was people letting off fireworks in celebration of our victory that day in the India-England cricket match," he says.
The hospital's visiting time was over, and the lift operator was asking everyone to leave.
Mr Chavan went to speak to the watchman to explain to him that he was just stepping out to buy some medicines and would return soon when he saw the lift leave without him. He took the stairs - but he came down to a horrific scene.
'Unbelievable'
"I saw that the liftman had been shot in the stomach and he was bleeding, I think he was dead," he says. "When I went a bit further I saw that the watchman had been shot and he was dead. I was so scared."
Mr Chavan rushed back upstairs. "I told everybody that there was some kind of firing going on outside and asked everybody who was in the corridor to go inside one of the wards." They piled beds in front of the doors to stop the gunmen from entering.
Mr Chavan managed to look out of the window to see what was going on. "I saw a couple of gunmen throwing grenades and shooting everywhere," he says. "I was really scared. It was just unbelievable. We were all barricaded inside that ward for such a long time, and the doctors gave us strict instructions not to open the door to anyone."
Meanwhile, Viju was in the delivery room. She could hear gunshots, but the birth wouldn't wait.
"I was very scared but I couldn't control my delivery - that had to happen," she says. "I knew there was something terribly wrong going on outside, so I didn't scream, I didn't make any noise."
Viju delivered the baby in silence and the staff did all the usual checks - even weighing the baby. At 10.55pm, about an hour after the hospital attacks had begun, a message was delivered to Mr Chavan that his daughter had been born. He remained barricaded in the ward with the others until 2am.
A bullet hit the door of the labour ward - it did not penetrate, but cracked the glass. The doctors, fearing further gunshots, asked Viju to lie under the bed with her baby for safety.
Viju named her new-born girl Tejaswini, after a Bollywood film about an uncompromising female police officer fighting corruption, but that night hospital staff gave her another name. "I was breastfeeding my baby half an hour after she was born and the doctor said: You should name your daughter Goli, which means bullet."
The name has stuck and Tejaswini is better known as Goli than her formal name.
'Quite famous'
Goli's birth made headline news and the baby became a symbol of hope for the city. The family received many visitors in the weeks following her birth, and the nickname stuck.
"In the neighbourhood everyone calls her Goli, a lot of people call her AK47 [after the Kalashnikov assault rifle carried by the attackers]," says Viju. "So she's quite famous that way."
Goli, sitting next to her parents during the interview, says she likes the name.
Mr Chavan is grateful that they all came out of the situation safely, but he is still haunted by the scenes he witnessed. Seven people were killed inside the hospital and nine outside, including several police officers.
"I saw a very senior police officer shot in front of me," he says. "That is really painful - I will never forget that. It was because of those police officers that we are all alive today."
Pakistani citizen Mohammad Ajmal Amir Qasab, one of the attackers of the hospital, was the only gunman caught alive - he was tried and sentenced to death in May 2010 and hanged on 21 November 2012.
Despite media attention around the anniversary of the attack, the family never celebrates Goli's birthday "because we know this is a sad day for a lot of people", says Viju.
The family's faith helps them deal with the events of that night.
"I think my baby has got the life of a hundred people," says Viju. "I pray to God that my daughter will grow up to be a good citizen with very good ideals, very good manners and strong enough that even if a terrorist comes in front of her in the future, she should be able to face them."
Viju and Shamu Lakshman Chavan spoke to Outlook on the BBC World Service. Listen again on iPlayer.