India top court commutes 15 death sentences over 'delay'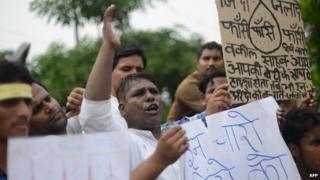 India's Supreme Court has commuted the sentences of 15 death row prisoners to life in jail on the grounds of delay.
Those affected include four associates of the notorious bandit Veerappan and two other men convicted of murdering their relatives.
Campaigners have welcomed the ruling, saying it will impose new conditions on the use of the death penalty.
India rarely carries out executions, which are often delayed indefinitely or commuted by the president.
A three-judge panel headed by Chief Justice Palanisamy Sathasivam ruled that "delay is a grounds for commuting death penalty to life sentence".
The panel said mental illness and solitary confinement could also be reasons for commuting sentences.
A total of 15 prisoners had challenged their death sentences because of the time taken by the president to answer their mercy petitions.
Although they were not petitioners in the case, the ruling could affect three men convicted of killing former PM Rajiv Gandhi, as well as Devinder Pal Singh Bhullar from Punjab who has been on death row since August 2001 for a 1993 attack in Delhi which killed nine. His plea, filed in 2002, was rejected by the president in 2011.
In April last year, the court rejected his petition to commute his sentence on the basis that there had been "an inordinate delay" in deciding his mercy plea.
Reports said Tuesday's judgement affects more than 400 prisoners who are currently on death row in India.
Executions are rarely carried out in India, but in the last two years there have been two hangings in India.
Mohammed Ajmal Qasab, the sole surviving attacker from the 2008 Mumbai attacks, was executed in November 2012 in a prison in the western city of Pune.
And in February 2013, a Kashmiri man, Afzal Guru, was hanged in Delhi's Tihar jail for the 2001 attack on India's parliament.