Andhra Pradesh lawmakers reject India Telangana bill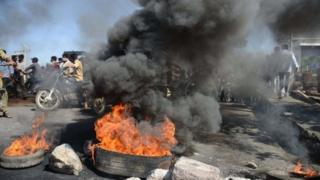 Lawmakers in the southern Indian state of Andhra Pradesh have rejected a bill to create the new state of Telangana.
Most of the legislators supported Chief Minister Kiran Kumar Reddy's resolution against the bifurcation of the state.
The move is seen as an embarrassment for the federal government which approved the new state in October.
Telangana, with a population of 35 million, would comprise 10 of Andhra Pradesh's 23 districts, including the city of Hyderabad.
In recent years, there have been protests for and against the creation of India's 29th state.
Backers of the new state say the area has been neglected by the government.
Opponents are unhappy that Hyderabad, home to many major information technology and pharmaceutical companies, would become a shared state capital.
Correspondents say the final decision on a new state lies with the Indian parliament.
The rejection of the AP [Andhra Pradesh] Reorganisation Bill-2013 by the state assembly is an embarrassment to the government in Delhi which has decided to table its own bill paving the way for a separate state in the next session of parliament, beginning 5 February.