'Delhi air pollution higher than Beijing' report denied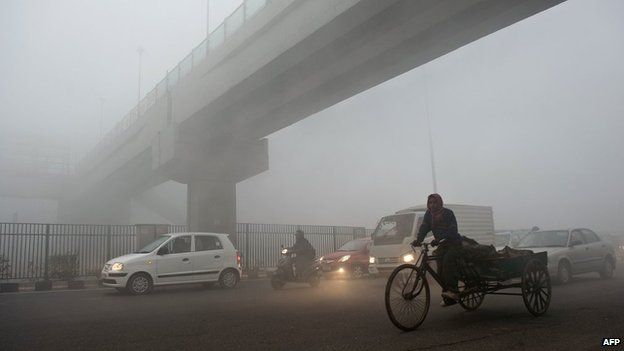 The head of an environment measurement index has denied media reports suggesting it found air quality in the Indian capital, Delhi, to be worse than in China's capital, Beijing.
But it ranked countries and India was 174 out of 178 countries for air quality. China was at 176.
The EPI is prepared by researchers at Yale and Columbia universities.
However, an overall pollution rating, which includes factors such as health impact and water and sanitation, put India at 155 - China was ranked higher at 118.
"The EPI does not rank cities, nor do the data in the EPI provide any information on city-level performance," said Dr Hsu of the Yale Center for Environmental Law and Policy who is also the project director of the index.
She said a lack of accurate data from India was a problem.
"Beijing reports [pollution] data on an hourly basis over a publicly accessible platform. Delhi's reporting is not as consistent or transparent, making direct comparison impossible. Delhi may or may not have dirtier air than Beijing, but it is clearly behind in how it makes air quality information available to its citizens," Dr Hsu added.
Dr Gufran Beig, chief scientist at India's System of Air Quality Weather Forecasting and Research, has also refuted the report saying that the average concentration of smaller dust particles (PM2.5) - that penetrate deep into the lung - was 210 microgram per cubic metre (m/cum) in Delhi this month.
This, he told the BBC, is not even half of Beijing's PM2.5 level recorded this year.
But the Centre for Science and Environment (CSE), a Delhi-based think tank, has pointed out that the average daily PM2.5 levels in Beijing during 2013 largely remained below 250 m/cum and their winter peaks did not cross the 400 m/cum mark till December.
In comparison, Delhi recorded an average PM2.5 level of 240 m/cum since November 2013 but the peaks have hit as high as 575 m/cum this winter, the CSE said.
The permissible limit of PM2.5 is 60 m/cum.
Dr Sarath Guttikunda, director of Delhi-based Urban Emissions Info, refused to be drawn into this number game.
"Our pollution levels do not need to get worse than Beijing's for us to wake up and take action. Delhi's air is bad, very bad, and it's getting worse by the year," he warns.
Winter smogs are common in Delhi, but this year's haze has been sometimes severe, disrupting air and railway traffic.
Rising pollution has been blamed mainly on a huge increase in the number of vehicles in the city, particularly diesel-driven cars.
Delhi's government introduced greener fuels for public transport in 2000 to control air pollution but the levels have continued to rise.