US envoy Nancy Powell meets India's Narendra Modi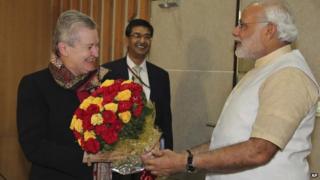 US Ambassador to India Nancy Powell has held talks with Gujarat Chief Minister Narendra Modi marking an end to a decade-long US boycott of the controversial leader.
Mr Modi is the main opposition Bharatiya Janata Party's candidate for PM in the forthcoming elections.
He was criticised for doing little to prevent religious riots in Gujarat in 2002 in which more than 1,000 people, mostly Muslims, died.
Mr Modi has always denied wrongdoing.
Riots erupted after 60 Hindu pilgrims died in a train fire which Muslims were blamed for igniting.
Many Western governments broke off contact with Mr Modi's government after the riots. The US continues to refuse him permission to enter the country.
Correspondents say Thursday's meeting is an attempt by the US to build bridges with Mr Modi, whose Hindu nationalist BJP is widely expected to win the elections due by May.
On Thursday morning, Ms Powell shook hands with Mr Modi at his residence in Gujarat's capital Gandhinagar, before going in for closed-door talks, the Associated Press news agency reported.
Ms Powell and her entourage arrived in four official cars, but she did not speak to waiting reporters.
The US Embassy in a statement said that the "meeting was part of the US Mission's outreach to senior leaders of India's major political parties in advance of the upcoming national elections".
The statement said Ms Powell would also meet "representatives from non-governmental organisations and US and Indian businesses" in Gujarat.
"Her discussions focus on the importance of the US-India relationship, regional security issues, human rights, and American trade and investment in India," the statement said.
Under Mr Modi's leadership, Gujarat has been turned into one of India's economic powerhouses.
But he continues to be seen as a divisive figure and has not expressed remorse or offered an apology for the 2002 violence.