Balu Mahendra: Indian filmmaker dead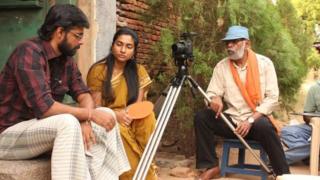 Award-winning Indian film director Balu Mahendra has died in the southern city of Chennai, aged 74.
Mahendra suffered a heart attack on Thursday morning and died in a hospital, reports said.
He began his life as a cinematographer and went on to make many memorable films, including Moondram Pirai (Third Day of the New Moon) and Veedu (House).
Mahendra made films in Tamil, Telugu, Kannada and Malayalam languages. He also directed the Hindi film Sadma.
He won five national awards for his films and a host of state and private awards.
Mahendra made his debut as a director in 1977 with the Kannada film Kokila and directed more than 20 films in four Indian languages.
He was considered to be among the first cinematographers in India to use innovative camera styles and natural lighting.
"Deeply saddened on the demise of Balu Mahendra. The legacy of his creations Sadma & Moondram Pirai will live on," tweeted former Indian film star Sridevi, who acted in Moondram Pirai and Sadma, its Hindi remake.
Bollywood director Madhur Bhandarkar tweeted: "Sad to hear the Demise of Master of Innovative Camera Style, Natural Lighting, maker of my favourite hindi film SADMA. Balu Mahendra, RIP."