India court orders Sahara chief Subrata Roy's arrest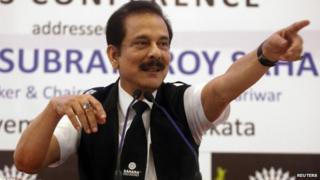 The Indian Supreme Court has issued a warrant for the arrest of the chief of Sahara, one of India's biggest business houses, after he failed to appear in court.
Subrata Roy was ordered to be present in court for failing to refund money to millions of investors.
Two Sahara firms had raised 240bn rupees ($3.9bn; £2.3bn) through bonds that were later found to be illegal.
Last year, the market regulator froze bank accounts of the two firms.
The Securities and Exchange Board of India (SEBI) said they had failed to refund the money despite a court order.
But Sahara said its liability was much less and that it had deposited an adequate amount with the regulator.
On Wednesday, Mr Roy's lawyer told the court that the Sahara chief had been unable to appear in court since his 92-year-old mother was very unwell.
The judges, however, said that Mr Roy must appear before the court since they had "rejected his plea for exemption from personal appearance" on Tuesday.
"Yesterday we told you that we are not inclined to exempt him [Mr Roy] from personal appearance. If other directors can appear, why can't you?" the Press Trust of India quoted the judges as saying.
The court then issued a warrant for the Sahara chief's arrest and ordered the police to bring him in on 4 March.
Sahara began raising the money five years ago from nearly 22 million small investors, many of them in rural India.
In August 2012, it was ordered to refund the money in 90 days, with 15% interest, for failing to comply with financial regulations. In December, the court gave the firms more time to repay.
Sahara says it believes that its liability is not more than the 51.2bn rupees it has already deposited with SEBI and that the regulator's demand is based on "old facts and details".