Media praise navy chief's 'act of conscience' after submarine accident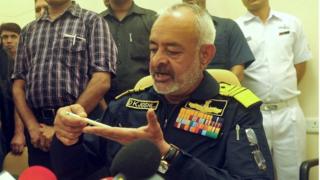 Media heap praise upon India's navy chief for taking "moral responsibility ", after the accident on board a submarine off the coast of Mumbai that injured seven sailors and left two missing.
Admiral DK Joshi resigned from his post after a series of accidents involving navy ships in recent months.
The INS Sindhuratna was being tested at sea when smoke triggered the automatic closure of hatches on Wednesday.
"Admiral Joshi's immediate resignation taking moral responsibility for the accident stands out as a shining act of conscience in an age when our ministers cynically and shamelessly refuse to be held accountable for the deaths of countless citizens because of the negligence of their governments," The Times of India says.
The CNN-IBN website echoes similar sentiments, saying "Admiral Joshi has showed the moral courage to own up and quit. But, what about the political masters? Are not they equally or more responsible for the sorry state of affairs?"
Last year, 18 sailors died in one of the Indian navy's worst disasters. They were killed when a submarine sank following two blasts and a fire at a Mumbai dockyard.
Some papers express concern over the navy's aging equipment.
Hindi daily Dainik Jagran says the accidents are also "matter of shame".
The paper adds that such accidents are "not acceptable" because because they point towards some "serious failings".
In foreign affairs news, India and Saudi Arabia have signed a defence co-operation pact following a visit by Saudi Arabia's Crown Prince Salman bin Abdulaziz Al Saud, the Mint website reports.
The pact will allow the exchange of defence-related information, military training and education, the report adds.
Detective parrot
Elsewhere, India and Russia have agreed to finalise the long-pending deal for the third and fourth reactors of the Kudankulam nuclear plant in the southern state of Tamil Nadu, The Asian Age reports.
Indian External Affairs Minister Salman Khurshid and visiting Russian Deputy-Prime Minister Dmitry Rogozin decided to conclude the general framework agreement on the joint project, which is seen as critical to India's energy needs.
Russia is opposed to the project coming under India's nuclear liability law and wants it to be covered under the inter-governmental agreement on the issue, the report adds.
India's liability law stipulates that nuclear firms aiming to set up plants in India will have to pay huge sums of money in case of an accident.
And finally, in a case that seems "straight out of an Agatha Christie pot-boiler", a parrot turned detective and helped the police solve a murder case, The Times of India reports.
Neelam Sharma was found dead at her residence on 20 February, but the police were making little progress.
Ms Sharma's husband, Vijay, said he got suspicious when he noticed that the parrot "would start screeching" whenever his nephew Ashutosh visited their house after the murder.
The Senior Superintendent of Police in the northern city of Agra, Shalabh Mathur, said that Ashutosh confessed to the crime after interrogation, saying he had "entered the house with the intention of taking away cash and other valuables".
Since he was afraid that his aunt might recognise him, he stabbed her along with her dog.
"But he hadn't accounted for the parrot who was watching silently", the report said.
BBC Monitoring reports and analyses news from TV, radio, web and print media around the world. For more reports from BBC Monitoring, click here. You can follow BBC Monitoring on Twitter and Facebook.