Delhi arrests after BJP-AAP supporters clash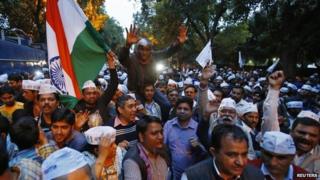 Police in the Indian capital, Delhi, say they have arrested 14 people in connection with the clashes between two rival political parties on Wednesday.
Some 28 people were injured in the fight between supporters of the main opposition Bharatiya Janata Party (BJP) and the new Aam Aadmi Party (AAP).
It was sparked by the brief detention of AAP leader Arvind Kejriwal in Gujarat, which is ruled by the BJP.
Mr Kejriwal was held for allegedly violating an election code of conduct.
The code of conduct is enforced after elections are announced. On Wednesday morning, India's Election Commission announced the dates of general election which will take place in nine phases in April and May.
Mr Kejriwal, who is on a four-day trip to Gujarat, was later released on Wednesday evening and tweeted to his supporters to "stay calm and non-violent".
As soon as the news of Mr Kejriwal's detention broke, AAP supporters began collecting outside the BJP headquarters in Delhi, shouting slogans against Narendra Modi, the BJP's prime ministerial candidate and chief minister of Gujarat.
Police used water cannons to disperse rival party supporters as a pitched battle broke out.
AAP and BJP supporters charged each other with instigating the clash which left 28 people, including 23 supporters of the two parties and four policemen, injured.
Senior Delhi police official SBS Tyagi told BBC Hindi that 14 people had been held for rioting, stone pelting, damage to public property and attacking policemen for Wednesday's clashes.
He did not disclose which parties the arrested people belonged to, but media reports said they were all from AAP.
Mr Kejriwal has accused the BJP of instigating the incident, but apologised for "any role that our workers played in the violence".
BJP chief Rajnath Singh appealed to party supporters to remain calm.
"Being a responsible party, the BJP does not believe in anarchy and violence", he said.