India's Arvind Kejriwal 'stopped' from meeting Narendra Modi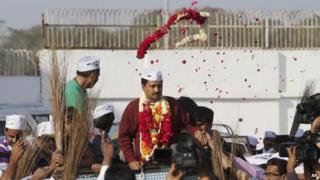 Police in the Indian state of Gujarat have stopped the leader of the anti-corruption party from visiting the home of the chief minister, reports say.
Arvind Kejriwal of Aam Aadmi Party said he wanted to meet Narendra Modi with some questions for the chief minister.
He said his travels in Gujarat had "exposed some shocking truths" about development in the state.
Mr Modi is also the prime ministerial candidate of the main opposition Bharatiya Janata Party (BJP).
Under his leadership, Gujarat has been turned into one of India's economic powerhouses.
But Mr Modi continues to be seen as a divisive figure and criticised for doing little to prevent 2002 religious riots in Gujarat in which more than 1,000 people, mostly Muslims, died.
Correspondents say Mr Kejriwal's four-day trip is aimed at garnering support for his new party, which made a spectacular debut in state polls in Delhi and is contesting the nine-phase general elections in April and May.
Mr Kejriwal told reporters that he wanted to meet Mr Modi with a list of 16 questions on development in the state.
"There was a lot of talk about how progressive Gujarat has been, but what we have witnessed in last two days [of travel] is the exact opposite," he said.
Police put up barricades to stop his vehicle from approaching Mr Modi's house.
"I have been told that [Mr] Modi does not have time to meet me," Mr Kejriwal said.
Media reports said one of his top aides, Manish Sisodia, had now sought an appointment with Mr Modi.
Mr Kejriwal's trip to Gujarat has been the subject of controversy.
He was briefly detained by the police over the weekend for allegedly violating an election code of conduct, triggering off clashes between supporters of his party and the BJP in the capital, Delhi.
Both sides accused each other of instigating the clashes in which 28 people were injured. Fourteen people arrested in connection with the incident were later released.
In a recent interview with the BBC, Mr Kejriwal said he did not want to be prime minister, but he declared himself an "anarchist on a mission to shake up the Indian system".
Correspondents say Mr Kejriwal has attracted growing criticism for what's seen as his populist, headline-grabbing style.
Just six weeks after becoming Delhi's chief minister he resigned, with many saying he simply used the position as a platform for the general elections.