Indian media: Political infighting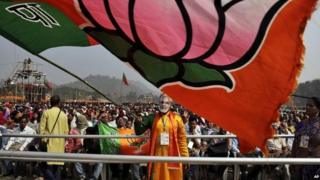 Media in India are highlighting infighting in political parties over the selection of candidates for the upcoming general elections.
Report say the main opposition Bharatiya Janata Party (BJP) is struggling to choose between veteran leader Murali Manohar Joshi and prime ministerial candidate Narendra Modi for the prestigious Varanasi seat.
Mr Joshi is the incumbent MP from Varanasi in the northern state of Uttar Pradesh, but Mr Modi's name is also in the fray.
"In Varanasi, the question still is: will it be Mr Modi or Mr Joshi? The politically aware citizenry continues to discuss the topic even after Mr Joshi broke his silence, saying that as a disciplined soldier of the BJP, he would obey the party if it asks him to shift to Kanpur," reports The Hindu.
The new Aam Aadmi Party (AAP) is also facing some tough questions over its candidates.
"Disgruntled AAP workers on Sunday protested outside party national convenor Arvind Kejriwal's residence in Delhi and shouted slogans against the selection of some AAP candidates," reports the The Financial Express.
Papers are also highlighting an interesting case of a Congress candidate who has joined the BJP hours after his nomination.
"The Congress was left red-faced on Sunday when its candidate from Bhind, Bhagirath Prasad, crossed over to BJP barely hours after his name was announced in the first list of party nominees," reports The Times of India.
Social media campaign
Staying with poll-related news, the Election Commission has decided to keep an eye on the parties' expenditure on social media campaigns.
"Candidates and political parties using the social media to campaign will not just have to include the costs so incurred in their expenditure records but also need to get prior clearance for political advertisements before using them on such media," reports The Indian Express.
Moving on to other stories, a group of women in the Sitapur district of Uttar Pradesh state have managed to convince men to shut alcohol shops in the area.
"These women have joined hands to shut down the manufacture and sale of country liquor in seven villages," reports the Asian Age.
These woman ran an impressive campaign to educate men about the bad impact of alcohol and took help from the police to shut illegal liquor shops, it added.
And finally, a court has ruled that refusing sex on honeymoon cannot be considered as cruelty and hence cannot be taken as a ground for granting divorce, says a report in the NDTV website.
"The married life should be assessed as a whole and a few isolated instances over certain period will not amount to cruelty," the Bombay High Court said while hearing a divorce petition.
BBC Monitoring reports and analyses news from TV, radio, web and print media around the world. For more reports from BBC Monitoring, click here. You can follow BBC Monitoring on Twitter and Facebook.