Indian media fear violence ahead of elections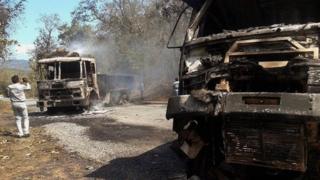 Media in India feel Tuesday's deadly attack on policemen in the central state of Chhattisgarh is a grim reminder of security challenges ahead of the general elections.
Maoist rebels fired at a police patrol when it was on its way to provide security to workers building a road in Sukma district, officials said.
At least 15 policemen died and 25 others were wounded in the attack.
The Maoists, who say that they are fighting for the rights of the poor, are active in more than a third of India's 600 districts and control large areas of several states in a "red corridor" stretching from north-east to central India.
They oppose elections and have threatened to sabotage the democratic process.
"The Maoists' continuing capacity to unleash violence is a matter of concern, particularly since general elections are round the corner," says the Deccan Herald.
Hindi daily Dainik Jagran says the latest attack proves that the rebels can attack any area and whenever they want.
Meanwhile, S Gopalakrishnan, chief of the Confederation of Indian Industry, has said India "cannot afford a period of political instability and must strategise to reprise a high growth", The Hindu reports.
The trade body was "confident that the next government would take up economic revival as a priority", he added.
Women fighter pilots
The Air Force (IAF) chief, Air Chief Marshal Arup Raha, has said that women are "physically not suited to fly fighter planes", the CNN-IBN website reports.
"As far as flying fighter planes are concerned, it is a very challenging job. Women are by nature not physically suited for flying fighter planes for long hours, especially when they are pregnant or have other health problems," the report quoted him as saying.
He was responding to questions on why women were not allowed to fly fighter planes, which is allowed in Pakistan and China, the report adds.
Meanwhile, archaeologists have found a decayed skeleton at an excavation site in the eastern state of Orissa which, they believe, belongs to the Chalcolithic period, The Times of India reports.
Earlier, a human skeleton from the same period was found at the excavation site in February 2013, the report adds.
Chocolate offerings
And finally, a temple deity in the southern state of Kerala has come to be affectionately known as "Munch Murugan" due to the devotees offering chocolate bars instead of the typical offerings of oil, flowers, coconut, incense and fruits, the Hindustan Times reports.
"Chocolate offerings started three years ago. Since the deity is Balamurugan (son of Lord Shiva), one day a devotee brought some chocolates as an offering. Since his wishes were fulfilled, it became a custom here," the report quotes D Radhakrishnan, manager of the Thekkan Palani, as saying.
"Some overzealous devotees are offering chocolate bars equal to their body weight to please the god," the report says and adds that the shrine authorities are now "finding it difficult to deal with the glut".
BBC Monitoring reports and analyses news from TV, radio, web and print media around the world. For more reports from BBC Monitoring, click here. You can follow BBC Monitoring on Twitter and Facebook.