Finmeccanica helicopter deal: India to appeal against Italy court ruling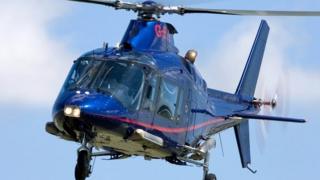 India will appeal against the order of an Italian court which rejected Delhi's request to recover $387m (£233m) in bank guarantees backing a scrapped helicopter deal with Finmeccanica.
India cancelled the $753m (£455m) deal last month with the Italian defence giant after allegations of corruption.
Officials said the firm's Anglo-Italian helicopter arm AgustaWestland had breached an integrity pact.
The contract was for 12 luxury helicopters to transport VIPs.
"The government of India will be filing an appeal against the order of the Italian court in Milan," the Indian defence ministry said in a statement on Tuesday.
"Simultaneously, the government will vigorously pursue all options for encashment of the bank guarantees," the statement added.
"The court has confirmed the ruling made last January, prohibiting... the payment of collateral of more than 278m euros [$387m; £233m] deposited in relation to the contract," Reuters quoted from a Finmeccanica statement after Monday's ruling in Milan.
India signed the deal for 12 three-engine AW-101 helicopters in February 2010 after the company beat off competition from US and Russian rivals.
Delhi suspended payments in February last year after allegations that AgustaWestland had paid bribes to win the contract.
The aircraft were for an elite squadron of the Indian Air Force which ferries around the president, the prime minister and other VIPs.
Three of the 12 British-made helicopters ordered have already been delivered to India. The remaining nine were due to be delivered by the middle of 2014.
Italian prosecutors suspect that kickbacks worth almost $67.6m were paid to Indian officials to secure the contract.
Giuseppe Orsi, the former chief of Finmeccanica, and Bruno Spagnolini, the former head of AgustaWestland, are being tried in Italy on fraud and corruption charges in connection with this deal - they both deny wrongdoing.