MS Dhoni: Indian cricket captain sues Zee TV for 1bn rupees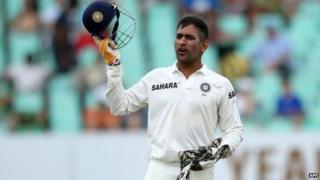 The captain of India's cricket team, Mahendra Singh Dhoni, has sued the private television network Zee TV for defamation.
Dhoni filed a case in the Madras High Court demanding 1bn rupees ($16.37m; £9.8m) in damages from the channel.
He says Zee TV has been showing false reports suggesting his involvement in betting and match fixing.
The court barred the channel from broadcasting any reports on the 32-year-old for the next two weeks.
In his complaint to the court, the cricketer said "he was aggrieved by [the] highly defamatory, scandalous, libellous and malicious false reports and statements" being made by the channel and former police officer G Sampath Kumar, the Hindu reports.
Dhoni is also the captain of the Chennai Super Kings team in the IPL tournament.
Last year, team official Gurunath Meiyappan, son-in-law of the country's cricket board chief N Srinivasan, was arrested briefly after allegations that he was involved in illegal betting.
Mr Srinivasan was also forced to "step aside" once the charges against his son-in-law became public, but he was reinstated as cricket board chief in October.
Media reports last month said a panel investigating spot-fixing in the IPL had found Mr Meiyappan guilty of illegal betting.
Ever since, some Indian media have speculated that the report also mentions Dhoni's name.