India Mumbai gang rape: Four convicted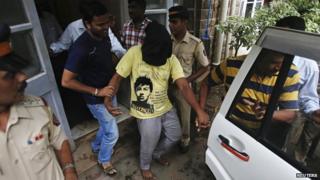 A court in the Indian city of Mumbai has convicted four men of the gang rape of a photojournalist last year.
The men have been found guilty of five offences, including gang rape, unnatural sex and destruction of evidence. Sentencing is set for Friday.
The 22-year-old woman was attacked by five men while on assignment in a deserted mill in August.
The fifth accused, believed to be under 18 at the time of the incident, is being tried in a juvenile court.
In India, where a rape is recorded every 22 minutes, scrutiny of sexual violence has grown since the gang rape and murder of a student on a bus in Delhi in December 2012.
The attack on the Mumbai photojournalist had renewed public outrage over sexual violence in the country.
'Strong message'
Maharashtra state Home Minister RR Patil, who was in court for Thursday's verdict, said justice had been done.
"The verdict has come in a very short time and justice has been delivered quickly," Mr Patil said.
"The verdict will send a strong message to other criminals. It will deter such crimes in future," he added.
The four convicts - Mohammed Salim Ansari, Siraj Rehmat Khan, Vijay Mohan Jadhav and Mohammed Kasim Hafeez Shaikh, also known as Kasim Bangali - aged between 18 and 27 at the time of their arrests, were present in the Mumbai court for the verdict.
An intern with a Mumbai-based English magazine, the victim had gone to the Shakti Mills - a former textile mill that now lies abandoned and in ruins - with a male colleague on a photo assignment when she was attacked.
Her colleague was beaten during the assault.
There were nationwide protests in December 2012 after the gang-rape of a 23-year-old student on a bus in the capital, Delhi. She later died from her injuries.
Four men have been sentenced to death over the incident. A fifth accused, a juvenile, was sent to a correction facility for three years.