India Mumbai gang rape: Four get life in jail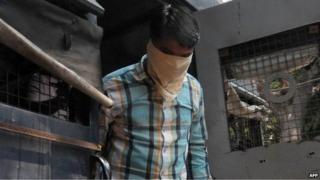 A court in the Indian city of Mumbai has sentenced four men to life in prison for the gang rape of an 18-year-old telephone operator.
The woman was attacked in an abandoned textile mill last July.
Three of those sentenced on Friday have also been convicted of the gang rape of a photojournalist last August. Sentencing in that case will take place on Monday.
Both trials were completed within seven months in a fast track court.
The 22-year-old photojournalist, an intern with a Mumbai-based English magazine, had gone to the Shakti Mills - a former textile mill that now lies abandoned - with a male colleague on a photo assignment when she was attacked. Her colleague was beaten during the assault.
After that case made national headlines, the 18-year-old telephone operator came forward to report that she had been assaulted in the same place a month earlier.
In India, where a rape is recorded every 22 minutes, scrutiny of sexual violence has grown since the gang rape and murder of a 23-year-old student on a bus in Delhi in December 2012.
The case sparked off nationwide protests and forced the Indian authorities to introduce tough new anti-rape laws.
Four men were sentenced to death and a juvenile was sent to a correction facility for three years.
The attack on the Mumbai photojournalist renewed public outrage at India's high level of sexual violence.