Indian media: 'Major attack' averted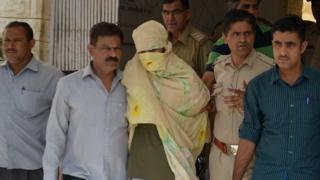 Media in India are giving prominent coverage to the arrest of four suspected militants ahead of the general elections.
Senior police officers say they have averted "a spectacular terror strike" by arresting four alleged members of the banned Indian Mujahideen (IM) group.
Polling for a new Lok Sabha, or lower house of India's parliament, will be held from 7 April to 12 May. Votes will be counted on 16 May.
"We have arrested Zia-ur-Rahman alias Waqas, a Pakistani national, Sunday. He, along with his accomplices, was planning a major attack in the country," a report in the Business Standard quotes SN Srivastava, a top police official in Delhi, as saying.
India's intelligence agencies and police blame the IM for several terror attacks in the past few years.
The police arrested Waqas and three other IM members from the northern state of Rajasthan after an intelligence-sharing operation between different police forces, the Hindustan Times reports.
Waqas is wanted in connection with bomb blasts in Mumbai, Pune and Hyderabad over the past several years. He is reportedly a bomb expert, reports say.
Home Minister Sushilkumar Shinde said the arrest of Waqas was a great success, as he was a crucial link to the group, Reuters news agency reports.
His arrest is the second major setback for the IM as its founder, Yasin Bhatkal, was arrested in Nepal last year, papers say.
Meanwhile, tourists travelling in groups will now be able to book an entire coach in the Delhi metro to see the city, the Hindustan Times reports.
"The Delhi Metro Rail Corporation has decided to allow tour operators, government and private agencies, or any individual on behalf of a group or school to avail the facility," the paper says.
Booking a coach may cost anywhere between 30,000-50,000 rupees (£300-500, $490-820), the paper adds.
In other news, a 24-year-old woman's breasts were allegedly cut off by another woman and two male accomplices in Bhiwandi on the outskirts of Mumbai, The Deccan Chronicle reports.
The victim was attacked after she refused to work as a sex worker in a brothel run by the 34-year-old woman, the paper adds.
Police say the woman has been arrested but the male suspects are still at large, the paper reports.
BJP's U-turn
In domestic politics, India's main opposition party Bharatiya Janta Party (BJP) on Sunday expelled a right-wing politician hours after his induction, the Hindustan Times reports.
The BJP's local unit in the southern Karnataka state faced severe criticism from the media and national leaders after accepting the membership of Pramod Muthalik.
"The party has rejected Mr Muthalik's entry and instructed the state unit of the party to do the needful," the paper quotes BJP spokesperson Nirmala Sitharaman as saying.
Mr Mutalik, who heads right-wing Sri Ram Sene, captured headlines in 2009 after he justified his group's violent attack on girls in a bar in in the southern city of Mangalore.
His group believes that it is "not acceptable" for women to go to bars in India.
And finally, the BJP is facing another controversy after some party members used religious hymn "Har Har Mahadev" - chanted to worship Hindu god Shiva - to praise the party's prime ministerial candidate Narendra Modi.
Hindu seer Swaroopanand Saraswati on Sunday asked the party to stop the use of "Har Har Modi" slogan, The Hindu reports.
"Instead of worshipping god, it is an attempt to worship a particular human being and is against Hindu religion," the paper quotes Mr Swaroopanand as saying.
The BJP later issued a clarification, saying its official slogan is "Ab ki baar, Modi sarkaar" ("It's time to elect Modi's government") and not "Har Har Modi", The Indian Express says.
BBC Monitoring reports and analyses news from TV, radio, web and print media around the world. For more reports from BBC Monitoring, click here. You can follow BBC Monitoring on Twitter and Facebook.