Indian media: BJP's U-turn on Muthalik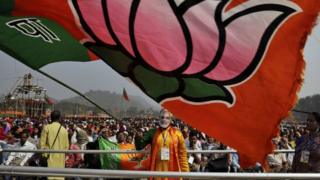 Media in India are criticising the main opposition Bharatiya Janata Party's (BJP) "bizarre" and "disastrous" U-turn over the induction of a controversial right-wing politician in the party.
The BJP's local unit in the southern Karnataka state faced severe criticism from the media and national leaders after accepting the membership of Pramod Muthalik.
"The party has rejected Mr Muthalik's entry and instructed the state unit of the party to do the needful," BJP spokesperson Nirmala Sitharaman said.
Mr Muthalik, who heads the right-wing Sri Ram Sene, captured headlines in 2009 after he justified his group's violent attack on girls in a bar in the southern city of Mangalore.
His group believes that it is "not acceptable" for women to go to bars in India.
Papers are criticising the party for even considering Mr Muthalik's application.
"In what can only be described as bizarre," the BJP inducted Mr Muthalik, the "notorious leader of the Sri Ram Sene which had attacked women in a pub as part of its moral policing, into its fold - for all of five hours", The Pioneer says.
Echoing similar sentiments, the Hindustan Times feels that "it should have been obvious to anyone with even an iota of political sense that it would be disastrous" to invite someone like Mr Muthalik into the party.
"At a time when the party is showing its inclusive, women-friendly, youth-compatible side, courting someone like Mr Muthalik is bound to raise suspicions of the party's real intentions," the paper adds.
The Times of India also termed the BJP's "recent induction and rejection" of Mr Muthalik as "one of the fastest political retreats this election season".
World War II heroine
Meanwhile, newspapers are voicing concerns over the global epidemic of tuberculosis, to which India "seems to be the largest contributor".
India "accounts for over two million cases of infection and a daily toll of over 1,000 deaths" the Deccan Herald reports.
The paper rues that the "steps taken by the government for this are yet to show the desired results. The anti-tuberculosis campaign, which is aimed at creating awareness and enabling people to take timely and effective treatment, is still not a mass campaign."
"Conquering the epidemic will require multi-pronged effort and political will. To begin with, India needs to launch a campaign, as massive and persistent as it did in the case of polio, for creating awareness," The Tribune says.
In other news, squash champion Dipika Pallikal won her long-drawn legal battle against Axis Bank in a consumer court in the southern state of Tamil Nadu, the NDTV website reports.
Pallikal had sued Axis Bank for "humiliation and loss of reputation" because her debit card transaction had failed at a Rotterdam hotel in 2011 even though she had sufficient balance in her account.
She said the incident made people at the hotel question her "about her creditworthiness and also about India", the report adds.
"This is a victory for the consumers of India. It reaffirms our faith in consumer courts. It will motivate other consumers who are wronged by service providers to stand up and fight for justice," the report quotes Pallikal as saying.
And finally, Britain's Royal Mail has issued a postage stamp in honour of World War II heroine Noor Inayat Khan, The Hindu reports.
Raised in Britain and France and a descendant of Indian royalty, Noor Inayat Khan was recruited by the elite Special Operations Executive in 1942 to work in Paris as a radio operator.
BBC Monitoring reports and analyses news from TV, radio, web and print media around the world. For more reports from BBC Monitoring, click here. You can follow BBC Monitoring on Twitter and Facebook.