No hope in sight for India's farm widows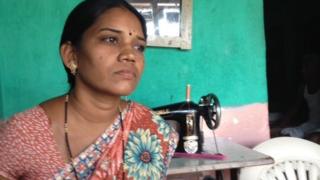 More than 200,000 farmers in India have killed themselves since the 1990s. Most of the suicides have been linked to poverty, debt, a sharp rise in costs and the failure of crops because of pest attacks. Vidarbha in Maharashtra state has been one of the worst affected regions. BBC Hindi's Zubair Ahmed revisits widows of farmers to find out how their lives have changed.
I met Indira Kelkar in 2006 at her one-room home in Dahegaon village, some 135km (85 miles) from the city of Nagpur, after her farmer husband took his life having run up a debt of 30,000 rupees ($500; £300) from the local money lender.
She was 32 then and had been left to fend for their four children.
Eight years on, she still appears to be in grief. Her hair is thinner and unkempt, her cheeks are sunken, and she wears a blank and forlorn look.
Her small, one-room dwelling looks bare, with no furniture and just a few pots and pans. There's no cooking gas or running water in the kitchen.
'Miserable'
With no financial help and family support she brought up her children and looked after her ailing in-laws by working as a daily wage labourer, earning 60 rupees a day.
The two daughters are now married. She struggled to send her two sons to school. One dropped out and the other barely finished his studies.
Though her husband's debt had been partly paid off, Indira ran up new debts after she was forced to borrow money when her younger daughter married.
"My life remains miserable," she told me.
Rekha was a young widow in the same village when I met her in 2006.
She still looks young enough to get married again. She says she has been looking after her children and her ageing father-in-law since her farmer husband's death.
Tears well up in her eyes when I ask her why she is not marrying again.
"Who would have looked after my four children if I had remarried?" asks Rekha.
Lonely and silent
Indira and Rekha are among more than 53,000 widows in Maharashtra state whose farmer husbands have killed themselves.
Some 10,600 of these widows live in Vidarbha - a dry, arid region where farmers are at risk of running up drought-related debt. Many of them grow cotton.
The government has been giving financial assistance to the farmers but suicides have not stopped, largely because they continue to borrow at steep interest rates from private money lenders.
Activist Kishor Tiwari, who has been fighting for the farmers' rights for nearly two decades, says the plight of the widows remains pathetic.
"Nothing much has changed since you came here in 2006," he tells me.
But it was not the financial woes of the widows that is disturbing.
It was their loneliness, their suffering in silence that worried me. There were no psychologists or counsellors to talk to them.
"Remarriage is against the local custom. Widows are often discriminated against because they are held responsible for the suicides of their husbands," says Mr Tiwari.
"They are even marginalised in their own families. And they have to look after their in-laws too."