Sunil Gavaskar replaces India cricket boss Srinivasan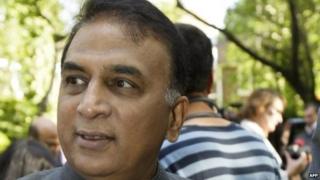 India's Supreme Court has installed former captain and batting legend Sunil Gavaskar as the interim head of the country's cricket board.
He replaces N Srinivasan who was asked to leave his post during a probe into spot-fixing and illegal betting in the Indian Premier League.
Mr Srinivasan also owns a team in the IPL, which is the world's richest cricket tournament.
He is regarded as the world's most powerful cricket administrator.
Mr Srinivasan was elected chairman of cricket's world governing body, the International Cricket Council, in February and is expected to take up the role in July.
The top court said on Friday that Mr Gavaskar would be appointed the "interim working president" of the Board of Control for Cricket in India (BCCI), and that he would also be in charge for the new season of the Indian Premier League (IPL), which begins on 16 April.
The court said Mr Gavaskar would have to stop his work as a TV commentator to avoid any conflict of interest, adding that he would have to be "adequately compensated" by the cricket board for loss of earnings.
The court also said that the Chennai Super Kings and Rajasthan Royals - the teams at the centre of allegations of illegal betting and spot-fixing - would be allowed to take part in this year's IPL. Mr Srinivasan owns Chennai Super Kings.
On Thursday, the judges had said that both the teams should be suspended from the eight-team tournament.
Spot-fixing involves players bowling wides and no-balls at certain times arranged beforehand with bookmakers.
Mr Srinivasan had "stepped aside" from his post as BCCI president in June last year after his son-in-law Gurunath Meiyappan was arrested over allegations of betting in the IPL.
Mr Meiyappan has since been released on bail, and Mr Srinivasan returned as the head of the cricket board. Both men deny any wrongdoing.
The IPL is considered to be the world's showcase for Twenty20 cricket. Top Indian and international players take part, contributing to what is the world's richest cricket tournament.